USI Board of Trustees approve miscellaneous fees for 2020-21 academic year
USI Board of Trustees approve miscellaneous fees for 2020-21 academic year
7/9/2020 |
University Communications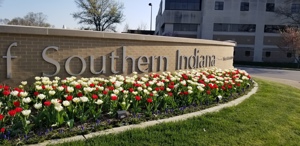 At its regular meeting on Thursday, July 9, the University of Southern Indiana Board of Trustees approved miscellaneous fees and reviewed mandatory student fees for the 2020-21 academic year.
As part of its annual meeting, the board appointed Ken Sendelweck to serve the second year of a two-year term as board chair. Other board-elected positions include Ron Romain as first vice-chair, Christine Keck as second vice-chair and student trustee Josi Barscz as secretary.
In additional business, the Board of Trustees approved recommended financial aid awards for the 2020-21 academic year and received updates on the Safe Return to Campus Plan and current construction projects.