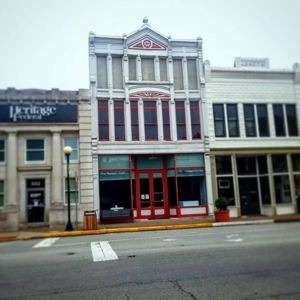 New Harmony Gallery of Contemporary Art (NHGCA) was awarded a grant from the Indiana Arts Commission (IAC) to help fund exhibitions for the 2021 Fiscal year.
The Commission approved grant allocations totaling more than $2.8 million in state and federal funds for grants and programs provided by arts organizations and cultural providers that prioritize community engagement throughout the state. The gallery was one of 382 community-based arts providers throughout Indiana to receive grants for Fiscal Year 2021.
Arts Organization Support provides annual operating funding for the ongoing artistic and administrative expenses of nonprofit arts organizations. Arts Project Support provides funding for one-time events like festivals, exhibits or workshops. Together, these programs represent a broad range of arts disciplines and geographic reach. In FY 2019, recipients of AOS and APS grants together served all 92 counties in Indiana. 
"This funding is crucial to sustaining the operations of arts organizations, which is a significant source of economic prosperity in Indiana," said Lewis Ricci, IAC Executive Director. "We know that these organizations have been heavily impacted by the pandemic, and this funding will help them weather the storm as they continue to adapt to this new normal and create safe, meaningful experiences for Hoosiers." 
The New Harmony Gallery of Contemporary Art provides a not-for-profit (non-commercial) exhibition space for current Midwestern artists and promotes discourse about and access to contemporary art in the southern Indiana region. Since its inception in 1975, New Harmony Gallery has provided an exhibition space for young and mid-career artists to show their work in a professional setting; and further, to provide a venue for contemporary art to the general public. The cornerstone of the Gallery's mission is education and access through a carefully planned series of seven exhibitions per year. The exhibition series, which explores contemporary art concepts, is intended to provide increased opportunity for artists and the public to engage in discourse on and about the arts and culture.
"We are thrilled to receive this grant from the Indiana Arts Commission and appreciate their support. The New Harmony Gallery of Contemporary Art is an integral part of the community and region and this funding will allow us to host a series of rotating exhibits throughout the year highlighting different forms of art while creating opportunities for the public to engage in conversations about art and culture," said Leslie Townsend, Director, Community Engagement and Historic New Harmony.
The New Harmony Gallery of Contemporary Art is an outreach partner of the University of Southern Indiana. The gallery is located at 506 Main Street in New Harmony, Indiana. Regular hours are 10 a.m. to 5 p.m. Tuesday through Saturday. For more information, call 812-682-3156 or go to USI.edu/nhgallery. 
About the Indiana Arts Commission
The Indiana Arts Commission works to positively impact the cultural, economic and educational climate of Indiana by providing responsible leadership for and public stewardship of artistic resources for all of our state's citizens and communities.
For more information about New Harmony Gallery of Contemporary Art, contact Erin McCracken Merris, Marketing Specialist for USI Outreach and Engagement, at emccracken@usi.edu