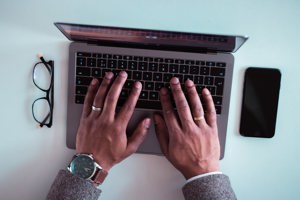 University of Southern Indiana Lifelong Learning is offering free online self-paced tutorial versions of a selection of its noncredit courses to the community.
Across the region and the state, professionals and students are all rapidly adjusting to new realities of working and learning remotely. USI is offering these courses to anyone in the community to provide support to individuals and businesses as they adapt to these changing times and continue their personal and professional pursuit of knowledge.
"It is our hope that the community can leverage these courses to help enter the workforce, advance their career or use this as a professional development opportunity to gain valuable workplace skills," said Dawn Stoneking, Interim Associate Provost of Outreach and Engagement and Director of Lifelong Learning.
The courses being offered are a selection from the online catalog of business and organizational management, personal and professional development and digital marketing courses offered by USI Lifelong Learning. The following courses are free of charge:
Fundamentals of Management and Supervision
Learn the people skills required to motivate and delegate and learn tools for solving problems and resolving conflicts.
Keys to Effective Communication
Lost for words? Don't be! Learn to build rapport, trust, warmth and respect through conversation.
Managing Customer Service
Become indispensable to any organization by understanding how to identify and meet customer needs.
Individual Excellence
Master twelve career-enhancing skills including goal setting, time management, personal organization and creativity.
Personal Finance
Protect your assets and discover how best to achieve all your financial goals.
Twelve Steps to a Successful Job Search
Learn how to get the job you want in any economy with these twelve steps. 
Creating Web Pages
Learn the basics of HTML so you can design, create and post your very own site on the Web.
Creating WordPress Websites
Learn how to create websites with WordPress, the most popular website building platform.
Marketing Your Business on the Internet
Develop an internet marketing plan for your business that incorporates SEO, advertising, email, social media and more.
Small Business Marketing on a Shoestring
Discover small business marketing strategies that can help you attract attention, woo your target audience, grow your customer base and expand your profits —all for little or no money.
Individuals must register by Tuesday, June 30 to take advantage of the free courses. Registrants will have three months from the time enrolled to complete the courses. There is no limit to the number of courses an individual may take concurrently.
USI Lifelong Learning offers online noncredit open enrollment courses and certificates to meet a wide variety of educational needs and goals. Learners are able to work and learn on their own schedule when it is convenient for them to do so.  Over 500 courses are available in the following areas: accounting and finance, business, college readiness, computer applications, design and composition, language and arts, law and legal, personal development, teaching and education, technology, writing and publishing. A full catalog of additional courses available for purchase can be found on the USI Lifelong Learning website.
For more information about Lifelong Learning, contact Erin McCracken Merris, Marketing Specialist for USI Outreach and Engagement, at emccracken@usi.edu.