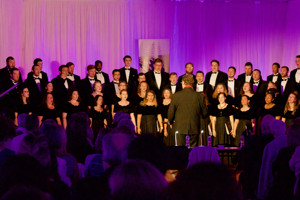 The University of Southern Indiana Women's Choir and Chamber Choir, featuring the USI Irish Music Ensemble, will perform their annual St. Patrick's Day concert at 7 p.m. Tuesday, March 17. The concert will be held in the 2nd Floor Reading Room of USI's David L. Rice Library and is free and open to the public.
The music featured in this concert is from a wide variety of ancient and modern composers, including a set of Irish Traditional Music for choir and instruments.
The USI Chamber Choir, as part of its 2018 Ireland concert tour, received first place in the Mayo International Choral Festival Premiere Competition in Ballina, Ballintubber and Castlebar, County Mayo, Ireland. This was the second time that the USI Chamber Choir won the premier competition in this festival and only the second time for them to compete at this level. They previously competed in the festival in 2016 and participated in the Universitas Cantat festival in Poznan, Poland in 2017 and performed at Carnegie Hall in 2019.
USI's Chamber Choir is the only mixed-voice group at the University, open to all students through an audition process. The USI Women's Choir is an auditioned group which specializes in the performance of women's choral music from every period of music history. All ensembles are comprised of students from all disciplines of study under the direction of Daniel Craig, associate professor of music.
For more information contact Craig at 812-464-1736 or dcraig@usi.edu.