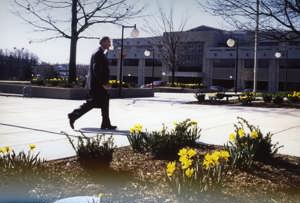 If you wanted to walk with Dr. David L. Rice (1929-2020), you had to walk fast. USI's founding and first president was a man in constant motion, whether crossing campus or considering its next step. "He never really stopped thinking about ways we could do things differently or do things better," recalls Sherrianne Standley, vice president emerita for advancement, who worked with Dr. Rice for 21 of his 27 years as president. "He was laser-focused on building this institution, and for all the years he was here, he never lost that laser focus. He just kept working." 
Rice was a "data guy," says Standley—an educator who studied population and academic trends and knew the potential for what would, in 1985, become the University of Southern Indiana. "He knew what USI was going to do. There's no question that he knew," she says of USI's growth—from a satellite campus of Indiana State University with fewer than 500 students to its current network of nearly 45,000 alumni worldwide. "Walk across this campus and you'll see happy faces of students who are living their purpose, finding their passion and doing great things with their lives because of people like Dr. Rice and his wife, Betty," says Dr. Ronald Rochon, USI's current president.
Rice was a visionary; a leader whose tenacity and grit, combined with compassion and warmth enabled him to build relationships—while also building a university. "If you talk to students who were here in the early years, they all knew Dr. Rice. They all came to his office. They had ideas they wanted to implement, and he figured out how to help them," says Standley. "He was a teacher, first and foremost, and everything he did, every conversation he had, you learned something from him."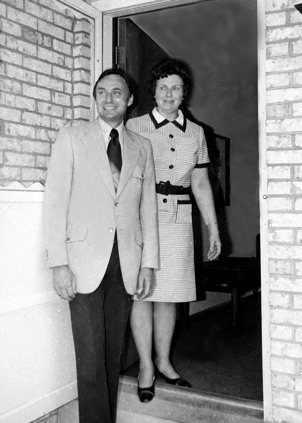 If ever there was a question about USI's grounds, Rice, who studied agriculture at Purdue University, likely held the answer. "He knew every inch of this campus—all 1,400 acres," Standley says, pointing out that those acres were all that existed upon Rice's arrival. "He could tell you where the black walnut trees were. He had workers clear out a grove by the soccer field because persimmon trees weren't getting enough sun. He knew all the woods." That was Rice's way. His curiosity never ceased.
Though his love and passion for USI were unfailing, nothing was more important to Rice than his family. He and his wife Betty, married 69 years, were a true team. Where one Rice was, the other would often be found. "She was his partner in so many things, and in involving the community in our campus in a way that made this a center of hospitality," Standley says. The pair frequently hosted University events at their home, with Betty providing homemade meals. For many years, she executed an elaborate menu for the Madrigal Feaste—including her signature plum pudding.
The parents of two children, the Rices took much pleasure in spending time with their six grandchildren and five great-grandchildren. "He had all of his priorities in the right place," Standley says.
As its founding president, David L. Rice molded the University of Southern Indiana, forever changing the educational landscape of the region. Over the course of nearly three decades, he never stopped pressing forward, forging a path for tens of thousands of students—and the educators who continue to inspire them. "We are working hard to make his family proud, to make his mentors proud, and, also, to make the community proud," says Rochon. "This was a life well lived, a life that we should celebrate."
Additional information about Dr. Rice, including his obituary, photos, condolences and funeral arrangements, can be found at www.usi.edu/rice.