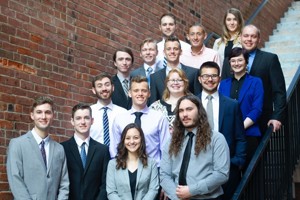 Teams of students participating in the University of Southern Indiana's Technology Commercialization Academy (TCA) will present their final product pitches from 11 a.m. to 12:30 p.m. Thursday, July 25 in the Business Engineering Center Atrium located on the USI campus. The final pitch event is open to the public as TCA students will present to USI faculty and staff, local business leaders and regional entrepreneurs.
Each team's pitch is the culmination of a 12-week program that focuses on a process known as design thinking. Students developed their ventures or product ideas throughout three work phases: skill development, entrepreneurs' mindset and practical application. TCA's goal is to develop innovative leaders, improve economic development, and retention of regional talent.
The sixteen TCA students explored military-developed patents and technologies developed by Naval Surface Warfare Center Crane Division (NSWC Crane) to generate commercial applications of their intellectual property. The Academy will end with a trip to pitch their final concepts to Crane officials on Friday, July 26.
Katelyn Knoll '20, a USI economics major and one of the team members exploring a use for Crane's patent concerning augmented reality (AR), has enjoyed the challenge of finding a commercial use for a technology that was initially used to assist soldiers shot targets. "Using the AR technology has forced us to think outside the box, and expand our minds for alternative applications, which has been a fun challenge," said Knoll. Her group is using the technology to develop an app that will allow individuals to visualize and quantify their daily disposal habits to encourage reduction of waste.
At the end of the pitch event, audience members will have the opportunity to meet the teams and ask in-depth questions to learn more about their experience and projects. This discussion will benefit the students and their ability to accept feedback and apply that to their experience through TCA.
Students will have the opportunity to continue working on their products through USI programs such as the Eagle Innovation Accelerator and BIZCOM, during the academic year.
To RSVP for the event or for more information about USI's Technology Commercialization Academy visit USI.edu/TCA.