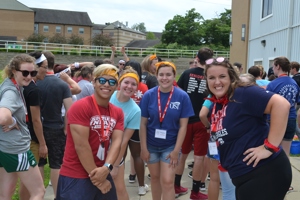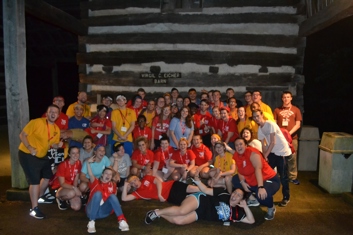 Their official debut as Screaming Eagles won't happen until the fall semester begins in August, but 40 first-year students got a jumpstart on their USI careers and an early overview of the University's history and traditions at Camp Eagle, a three-day leadership program sponsored by the Office of Student Development Programs and held on the USI campus in June.
In addition to their other duties, camp assistants Drelin Jukes '20, individual studies, and Kaleb Mason '21, business management, took on the role of interviewer, asking participants Hayden Martin '23, biology, and Ross Linville '23, nursing, to reflect on their experiences.
Jukes: Why did you decide to attend Camp Eagle?
Martin: During Orientation they made it clear that if you wanted to be really involved and a leader on campus that Camp Eagle was a good opportunity.
Linville: It was the first chance to be active and I jumped on it, just to meet new people.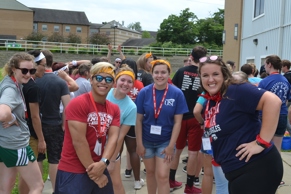 Mason: How would you describe Camp Eagle?
Martin: I think [it's] different than I thought it was going to be. It's more involved, and you get really close with peers in your class. It is a great opportunity for anybody coming into USI.
Linville: I walked in with no expectations.... and [I] made a lot of close friends.
Jukes: What were your favorite parts of the program?
Martin: The leadership-building activities, because I feel like it helped us work on our strengths and weaknesses and our leadership abilities, and it really showed what type of leader we are.
Linville: I liked the team-building activities, too, because at least for our group, that's what brought us together the most. And that's how we got so close.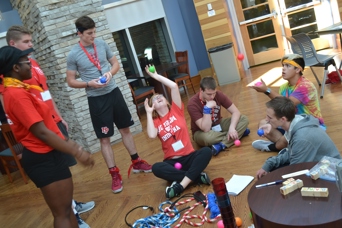 Mason: Do you think Camp Eagle helped you prepare for your college experience? In what ways?
Martin: It really gave me a sense that I'm not alone. And coming into college, not knowing for sure what I'm going to encounter, but knowing that I have peers that I'm now close to, I feel confident going into August.
Linville: Yes, and other ways, too, like for the leadership styles, of course. But also knowing that you have those connections that you can call and be like, "I need your help."
Jukes: What are you most looking forward to about being a student at USI?
Martin: Getting involved and really using my strengths and bettering the environment around me. And  getting ready for my career.
Linville: Definitely getting involved and making new friends and just living in the experience.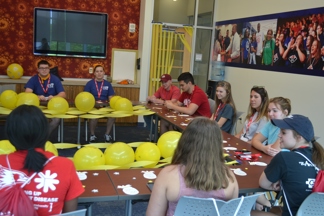 Mason: What worries you about the transition from high school to college?
Martin: High school came so easy to me, so, knowing that it's going to be harder. I'm going to have to study longer. It's going to be longer hours. And knowing that I'm going to have to find a real way to study, and not just try to memorize something right before a test. I think that's going to be my biggest transition from high school to college.
Linville: It will be the change in general. It's a big adjustment for everything.
Current USI students may apply to be a Camp Eagle leader during the spring 2020 semester. Registration for the 2020 camp will open in March. More information can be found at https://www.usi.edu/campeagle.