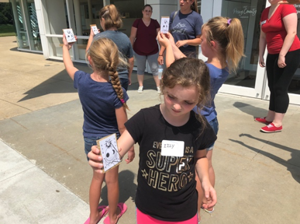 The University of Southern Indiana's Historic New Harmony will offer their Junior History Hub program for children this summer. The program, which is in its second year is geared towards children ages 6 to 12 and offers fun, creative and interactive history lessons pertaining to New Harmony's past.   
The program will run Saturday, June 15, June 29, July 6 and July 13 from 1 - 2:30 p.m. and each session will cover a different lesson. Topics of lessons include working with Robert Owen, Thomas Say's firefly, Harmonist technology and Harmonist home life.  
"We are striving to engage a younger audience, by making learning over the summer a fun experience," Claire Eagle, community engagement manager said. "Our hope is that children get excited about history and learn something new about this Indiana community that has been around for over 200 years." 
Participants will get the opportunity to play a game, take a mini- tour and create unique crafts such as their very own sundial and a handmade clay bowl, while learning about the history of two Utopian communities that called New Harmony home in the 1800's. 
The program is free to participants, thanks to sponsorship from the Mason-Nordgauer Fine Arts Gallery and will be held at the New Harmony Atheneum Visitor's Center, 401 N. Arthur Street, New Harmony, IN 47631. For more information, call the Atheneum Visitors Center at 812-682-4474.