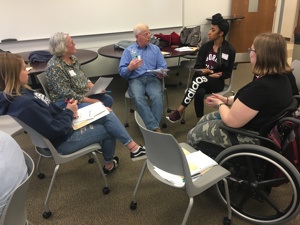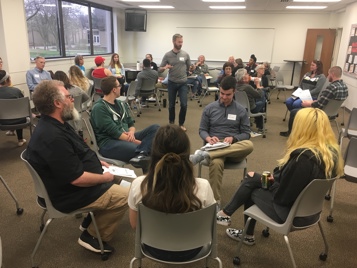 A first-floor classroom in USI's Health Professions Center buzzes with conversation on a Friday afternoon as students and older adults get to know one another—speed-dating style—at the start of a recent MAGIC (Multi-Ability, multi-Generational Inclusive Community) class. Among the 30 participants is Carol Hopkins, an 86-year-old senior dance and fitness instructor from the Atlanta, Georgia area. "I am by far the oldest [here], but I love it," she says.
Hopkins made the trip to Evansville with her daughter and son-in-law who, she explains, plan to develop a community housing project. She'd like to do the same. "I would definitely want to live there," she says. "This is vital that we learn something here." USI's Minka house, unveiled in October 2018 and available for tours, was built as a model for projects like the ones Hopkins mentions. "It is so exciting," Hopkins says about the Minka. "There's a version where you can have a little room off of it, so the mother-in-law suite would be there, and that's me."
"He heard it on NPR, about Minka houses," Roberta Kandel says about her husband, Ernie. The pair traveled from Colorado to experience the two-day intensive course and learn more about the Minka model. "He's interested in houses that are built off-site and moved in."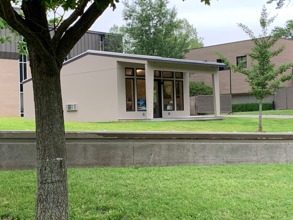 The course is a product of USI's pilot MAGIC project, now in its second year, which has included collaboration with USI faculty and community partners, an undergraduate course in participatory design and construction of the Minka house. "This class is a little bit more about the culture of aging, the culture of how we think about each other and what we can do together to create more inclusive communities," explains Kavan Peterson, co-founder of ChangingAging and MAGIC class guest speaker.
The fast-paced, high-energy course uses various exercises—from self-reflection to small group brainstorming to larger group conversations— "to explore how communities who want to become less segregated and more integrated by age and ability can break down barriers between generations, between people with different abilities, and foster more collaboration and communication and relationship building," Peterson says.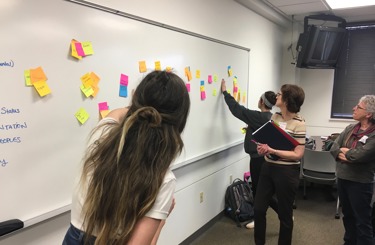 "The tools we're going to teach you will be useful for big projects and much smaller scales," Kyrié Carpenter, MAGIC class instructor, tells students. "Skills we're teaching you are great if you're in any kind of club or holding a meeting—great ways to make sure voices are heard."
"I'm hoping if I ever end up being in some leadership position, if I ever go into admin… I might have to end up leading people. So, I like the idea of knowing how to help everybody's ideas get expressed," says Rachel Lutt '21, psychology and German studies. She enrolled in the one-credit MAGIC class after hearing about it from a favorite psychology professor and met Ashley Owens '19, health services, while the two worked on an individual exercise about personal identity and its effects. 
"I like that it's not such a lecture… I like that it's more interactive, and you get to know one another also while gaining information," explains Owens, who found the class caused her to think about the way she views age. "Certain things I do say can seem ageist, like driving for instance. I always say they're too old to be driving because they're driving slow… I feel like in this life we all have some type of 'ism' in us that in different scenarios or moments we may come across as."
"It's opening my mind a lot," says Lutt.
The MAGIC class will be offered as an online course for USI students in fall 2019 (Bi-Term II) and again as a two-day intensive Friday, November 8 and Saturday, November 9, 2019. All are welcome to enroll in the intensive course.
"Anybody, any age. The people who show up are the people who should show up, and what they do is what should happen," says Peterson. "That's how change happens. That's how communities self-organize and create the solutions that they need."
John Milligan '20, health services, was one of 16 USI students who attended the two-day MAGIC class. Read about his experience in this blog.