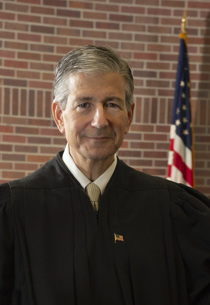 The University of Southern Indiana will hold a Commencement ceremony for undergraduate students in the Romain College of Business at noon Saturday, April 27 in the Screaming Eagles Arena on the USI campus.
The Honorable Wayne S. Trockman, class of 1981 and Vanderburgh Superior Court judge, will be the Commencement speaker for the Romain College of Business. An Evansville native, Trockman graduated from Harrison High School and earned a bachelor's degree in business
from USI and his Juris Doctor from Indiana University in 1984. From 1984 to 1999, he practiced law in Evansville before his appointment by Governor Frank O'Bannon to the Superior Court Bench.
In 2001, Trockman organized and implemented the first Drug Treatment Court in Vanderburgh County. This Court, which continues to thrive, serves as an intensive sentencing alternative to non-violent felony drug offenders who have committed crimes within the county. The program, which is partnered with the Indiana Department of Corrections, has reduced recidivism, improved quality of life within the community and diverted thousands of residents convicted of drug crimes from prison to treatment.
For his years of service and contributions to the community, Trockman has received numorous awards and recognitions, including being named a Sagamore of the Wabash by, then-Governor and current United States Vice President, Mike Pence in 2016, and receiving the James Bethel Gresham Award from the Evansville Bar Association. He and his wife Jill reside in Evansville. They have two sons, one of whom is a USI alumnus.
Guests are not required to have tickets for the Spring 2019 Commencement ceremonies but graduates must make a reservation to participate. All planning to attend are strongly advised to review the Screaming Eagles Arena Prohibited Items and Security Policy at USI.edu/arena-security. Once capacity within the Arena is met, attendees will be directed to the University Center East Conference Center, where a livestream of the ceremonies will be shown.
A reception for the graduates and their friends and families will follow the ceremony and will be held in University Center East.
Three other colleges at USI will conduct ceremonies on Saturday, April 27 according to this schedule. 
College of Liberal Arts, 9 am.
College of Nursing and Health Professions, 3 p.m.
Pott College of Science, Engineering, and Education, 6 p.m. 
A commencement ceremony for graduate students will be held at 6:30 p.m. Friday, April 26. Live video of each ceremony will be streamed in University Center East Conference Center (Rooms 2217-2220). The ceremonies also may be viewed online at USI.edu/live-stream.