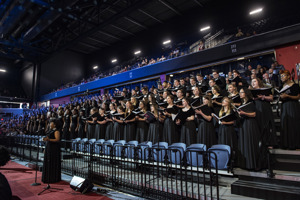 The University of Southern Indiana Chamber Choir and Women's Choir will present their spring concert at 3 p.m. Sunday, April 28 at Old North United Methodist Church, located at 4201 Stringtown Road in Evansville, Indiana. The concert is free and open to the public.
Included in the concert will be a performance of Gabriel Fauré's Requiem, a seven-movement piece for choir and instrumentalists based on the Catholic Mass for the Dead. The USI Chamber Choir will collaborate with other collegiate choirs in a performance of Fauré's Requiem in May at the prestigious Carnegie Hall in New York City.
In addition, the concert will include performances of works from Kenneth Jennings, Randall Thompson, Rosephanye Powell and other composers.
The concert is free and open to the public. For more information, contact Daniel Craig, associate professor of music, at dcraig@usi.edu.