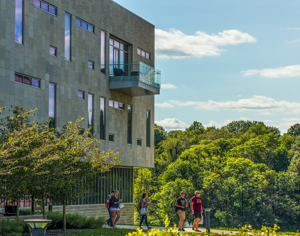 At its regular meeting on Thursday, March 7, the University of Southern Indiana Board of Trustees approved a Bachelor of Science in Civil Engineering (BSCE) degree program to be offered through the Pott College of Science, Engineering, and Education beginning fall 2019. The proposed degree program moves next to the Indiana Commission for Higher Education for approval.
"We are very excited the Board of Trustees has approved this new discipline-specific program in civil engineering," said Dr. Zane Mitchell, dean of the Pott College of Science, Engineering, and Education. "Graduates from our other engineering programs are already having an impact on our state's economy, and we believe this program will fill a crucial need for trained civil engineers."
In the Civil Engineering Program, students will develop the knowledge, skills, attitudes, and critical thinking necessary to become successful civil engineers. They will experience an applied perspective in the classroom with a focus on innovative real-world design problems and enhanced experiential learning through hands-on experiences within each project and laboratory class.
The Bureau of Labor Statistics projects an 11 percent employment growth rate for civil engineers through 2026, and long-term projections show Indiana having a 14 percent increase in new civil engineering jobs over the next 10 years. Civil engineering would join Bachelor of Science in Electrical Engineering, Bachelor of Science in Manufacturing Engineering and Bachelor of Science in Mechanical Engineering degree programs as discipline-specific engineering degrees offered through the Pott College of Science, Engineering, and Education. The USI Engineering Department also offers a general Bachelor of Science in Engineering degree program which is accredited by the Engineering Accreditation Commission of ABET.
In other business, the Board of Trustees approved the conferral of doctoral, master's and bachelor's degrees to eligible candidates at the Spring Commencement ceremonies, to be held Friday, April 26 and Saturday, April 27 at the Screaming Eagles Arena. The Board also received updates on the Indiana General Assembly, approved the sale of University property on Igleheart Boulevard and reviewed upcoming faculty sabbaticals.