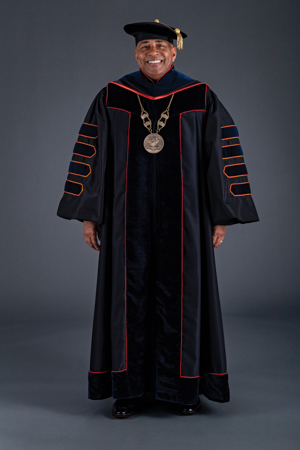 University of Southern Indiana alumni are invited to a special reception honoring Ronald S. Rochon, USI's fourth president, in the new Screaming Eagles Arena from 6 to 8 p.m. on Monday, April 1, 2019.
This reception event, organized by the USI Alumni Association, will allow alumni, including those who now work at USI, to get a first look at the new arena before it is opened to the public later in the week. It is also an opportunity to celebrate with Dr. Rochon ahead of his inauguration on Friday, April 5.
"Alumni have so many wonderful memories from the PAC. Many were present for the first game played there," said Janet Johnson, director of alumni relations and Volunteer USI. "Now, let's show our pride and come together for two milestones in our University's history—celebrating USI's fourth president and the opening of the new Screaming Eagles Arena."
Alumni are welcome to bring a guest as they explore the new arena, visit the Spirit Store, hear from the president ahead of his inauguration on Friday, April 5, and connect with other alumni.
Inauguration Week Events
Monday, April 1: Alumni Reception and tour of the Screaming Eagles Arena
Thursday, April 4: Romain Innovative Speaker: General Colin L. Powell, USA (Ret.)
Friday, April 5: Presidential Inauguration of Ronald S. Rochon