USI ACM chapter to host Hackathon for students and general public
USI ACM chapter to host Hackathon for students and general public
3/13/2019 |
University Communications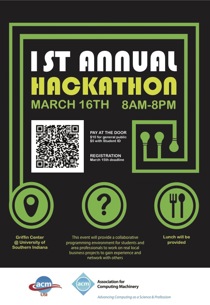 The University of Southern Indiana chapter of the Association for Computer Machinery (ACM) will host its first Hackathon from 8 a.m. to 8 p.m. Saturday, March 16 at the Griffin Center on the USI campus. 
This event, open to both USI students and the general public, will provide a collaborative programming environment to work on real local business projects to gain experience and network with each other. Lunch will be provided, and dinner will be available for purchase.
Registration is $10 for the general public and $5 for students with valid ID. Participants are asked to provide their own laptops.
For more information, contact Dr. Srishti Srivastav, assistant professor of computer science, at fsrishti@usi.edu.