USI's Information Technology Department is no stranger to competition. In March, IT employees try to outsmart (or, in some cases, outguess) each other as they fill out their NCAA brackets. In the fall, they aim to pick the best fantasy football team and avoid the honor of receiving—and displaying—a "loser fantasy football" award.
They work to collect more items than anyone else when the University holds food drives and prove they have the most spirit when it's time to decorate for Homecoming. So, it's no surprise they've turned what was once a casual chance to share new recipes into a full-fledged competition as well.
Three years ago, Rick Beury, applications administrator, and Mike Adcock, library computer services administrator, got to talking about chili. "I had just received a new [recipe] from my sister. We decided to make [our recipes] to bring in and share with everyone," Beury says.
As time went by, more and more employees brought soups to sample, and a new idea was born.
"Last year was the first year we charged people [donation] to eat the soup with the idea that money raised would go to Archie's Closet," explains Carol Schmitt, senior systems administrator and member of the IT Party Planning Committee ("yes, like from the show The Office," says Beury).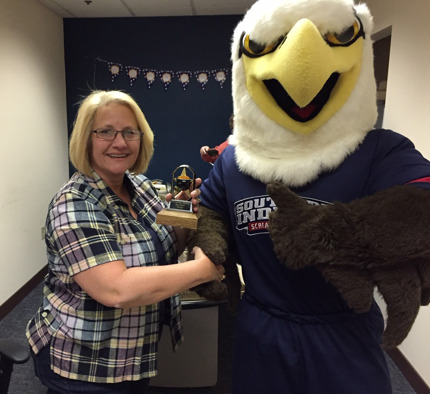 But why stop there? This time around, the committee decided it was time for a traveling trophy. Schmitt certainly wasn't expecting to win it with a tomato tortellini recipe she found online. "I don't consider myself to be a cook," she says. "There were some very good soups."
Judges Steve Bequette, director of Public Safety, Stephanie Walden-Schwake, associate director of Recreation, Fitness and Wellness, and Dan Martens, director of Procurement Services, thought Schmitt's was the best of the bunch—even better than Beury's taco soup. "All I can say is, it was all luck," Beury says, good-naturedly. "Carol tripped over a Pinterest recipe and took home the hardware."
The ultimate success, however, was a group effort. Donations raised by soup tasters from IT, the Business Office and Career Services (as well as a few others who caught wind of the tasty event) climbed to $100.
"We like that we can all get to know one another better in a more social setting, and we like being able to raise money for a worthwhile cause [Archie's Closet]," Schmitt says. "The campus community is a big supporter of Archie's Closet and what they do, so that decision [to donate the money] was easy," adds Beury.
Enjoying a table full of delicious soups and sides made it even easier.
Information Technology Department Fourth Annual Soup Day Cook-Off Participants
Chili - Teresa Grisham, software developer/analyst
Taco Soup - Rick Beury, applications administrator
Minestrone Soup - Stacy Draper, deputy chief information officer and chief information security officer
Spicy Chicken Curry Soup - Shannon Hoehn, applications administrator
Potato Soup - Loren Paugh, student employee
Chicken and Wild Rice Soup - Dave Alexander, database systems manager
WINNER: Tomato Tortellini - Carol Schmitt, senior systems administrator