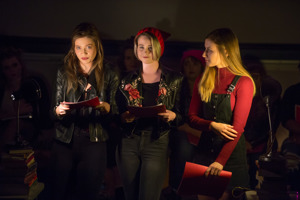 The University of Southern Indiana will present a two-night-only benefit reading of Eve Ensler's award winning play The Vagina Monologues at 7:30 p.m. on Wednesday, February 20, and 7 p.m. on Friday, February 22 in Forum III of the Wright Administration Building on the USI campus. Doors will open at 7 p.m. on Wednesday, February 20, and at 6:30 p.m. on Friday, February 22. The event costs $8 at the door. Ninety percent of proceeds go to Willow Tree of Posey County, working to help women and girls coping with sexual assault and domestic violence. Ten percent of proceeds go to the V-Day Action Fund for women who have been incarcerated.
For the first time, this year's show will include three original monologues written by performers in the cast who share their own stories of gender violence and work to overcome injustice. The USI Philosophy Club has been working with other clubs and groups to present The Vagina Monologues as an annual benefit fundraiser since 2007.  This year's event is co-sponsored by the USI Philosophy Club and the USI Gender Studies Program.
V-Day USI 2019 presenters include:
Chiamaka Atuegbu (student)
Jalyn Lee Ann Bird (student)
Elsie Carter-Keith (student)
Morgan Dale (student)
Karen Dawn (student)
Jeannie Holladay Elliott (alumna)
Grace Howard (faculty)
Zoie Hunter (student)
Kennedy Jessup (student)
Shana Miller (student)
Cristine Pyle (student)
Judith Savage (student)
Lindsey Stahl (student)
Mary Lyn Stoll (faculty)
Lauren Wojcuich (student)
Christie Vaughan York (alumna)
The New York Times called The Vagina Monologues, "probably the most important piece of political theater of the last decade." The play—first performed Off-Broadway and in locations around the world by Ensler—dives into the mystery, humor, pain, power, wisdom, outrage and excitement in women's experiences. V-Day grew out of the play which exploded onto the scene in 1998, breaking taboos about women's sexuality and shattering silence around violence done to women and girls. 
Created in collaboration with formerly incarcerated women and activists, the 2019 spotlight will focus on women in prisons and jails, detention centers and formerly incarcerated women. A direct connection exists between violence and abuse done to women and girls and the risk that those women and girls will be directly impacted by incarceration.
In the United States, 86 percent of women in prison were sexually and/or physically abused prior to incarceration, as reported by The Vera Institute for Justice in 2017. In the aftermath of abuse, trauma can lead to substance abuse and addiction, which can easily become a pathway to more violence, crime and/or incarceration.
V-Day USI is a local effort within the worldwide context of the 21st anniversary of V-Day. Over the past two decades, tens of thousands of communities and college campuses have staged V-Day benefit performances of The Vagina Monologues – and other artistic works, campaigns and Risings– in over 200 countries and territories. V-Day activists have raised consciousness, changed laws to protect women and girls, funded rape crisis centers and domestic violence shelters (often times these much-needed funds kept them from closing), educated their communities, and raised well over $100 million in urgently needed funds for groups doing the essential work of ending violence and serving survivors and their families.
To learn more about V-Day USI or the Vagina Monologues event contact Dr. Mary Lyn Stoll at mlstoll@usi.edu or 812-461-5244. To learn more about V-Day and its campaigns visit www.vday.org.