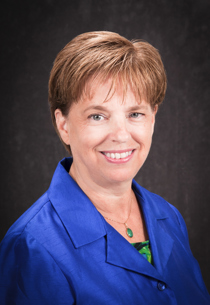 University of Southern Indiana President Ronald S. Rochon has announced that Dr. Marcia Kennard Kiessling has been promoted from associate provost for Student Affairs to vice president for Student Affairs. The change took effect on January 1, 2019.
The position will report directly to the president and will continue to oversee USI student programs and general administration, with management and the direction of Career Services and Internships, the Counseling Center, Dean of Students Office, Housing and Residence Life, the Multicultural Center, Religious Life, Student Development Programs, Student Publications, the University Health Center and Recreation, Fitness and Wellness.
"Dr. Kiessling is consistently student-focused and has brought a tremendous energy and passion to this position," said Rochon. "She is an ambassador, advocate and voice for students at all times. USI has benefited greatly from her leadership."
Kiessling has nearly 40 years of experience in student affairs and leadership development. She was appointed associate provost at USI in 2011. Prior to joining USI, Kiessling served as the assistant vice chancellor for Student Activities, Diversity, and Special Projects at the University of North Carolina at Charlotte. She previously worked at Clemson University in South Carolina, Allegheny College in Pennsylvania and at Ventura College in California. She has served as a presenter at national conferences, chaired a national convention, served on public policy regional and national committees, and her research has been published in peer-reviewed publications.
Kiessling completed her doctorate in education from North Carolina State University. She holds a master's degree in recreation and park administration with an emphasis in college union administration from Western Illinois University and a bachelor's degree in pre-theology with an emphasis in English, philosophy and religion from the University of Evansville.
After completing eight years of service to USI this summer, Kiessling is also planning to begin her retirement August 2, 2019. A search will begin immediately for her replacement with the goal of a hire by July 1, 2019.