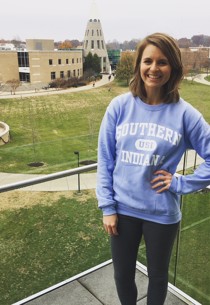 Hello! Thank you all so much for the warm welcome I've received since stepping on campus. You sure do know how to make an Internal Communications Specialist feel at home.
As I settle into this new role, my mission is to get to know as many of you as possible, so it seems only fair that I tell you a little bit about me. 
I'm an Evansville gal, through and through, and look forward to connecting the local dots with those of you who are also from this area. I graduated from Memorial High School and remain an East-sider. My husband, who I met while attending the University of Dayton, and who now coaches women's basketball at the University of Evansville, definitely has the quicker commute!
I come to USI from Youth Resources, an Evansville nonprofit with a focus on youth leadership development and substance abuse prevention, where I was Development Director. Some of you may recognize Youth Resources' name from its summer leadership conference, TEENPOWER, held on USI's campus each summer. I attended TEENPOWER as a student, loved reconnecting with the organization as a staff member, and remain involved now as a volunteer. 
If any of you are early birds, you may have caught me laughing (and perhaps rolling my eyes) at Dan Katz's puns and Byron Douglas' shenanigans while delivering the news on 14 News Sunrise. I spent more than 10 years producing, reporting and anchoring in Dayton, Chicago and, most recently, at WFIE. Dan and Byron are the best of the best, but eventually, I needed to roll back that 2 a.m. alarm!
On campus, my home base is the Publishing Services Center, but you're likely to see me just about anywhere. I'm always on the hunt for new USI Today stories about faculty and staff and the wonderful work you are doing. I hope you'll continue to let me know about events and programs you're offering and colleagues whose work, achievement and attitude shines.
Each one of us has a USI story. My goal is to help us all become more informed and connected by sharing them in your inbox each Monday, Wednesday and Friday and on the website. So, if you see me around campus, please stop and say "hi." I would love to meet you and find out what's going on around your slice of campus! Please email any questions or ideas to emeyer@usi.edu or USI.Today@usi.edu – or give me a call at 812-465-7005. You can also submit stories directly through the website, USI.edu/usitoday (toward the top right).
See you soon!