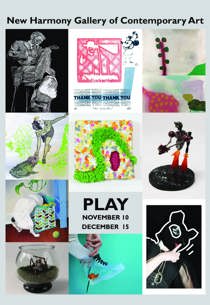 The New Harmony Gallery of Contemporary Art will host the exhibition Play through Saturday, December 15. An opening reception for Play will be held at the New Harmony Gallery of Contemporary Art at 4 p.m. Saturday, November 10 during the inaugural Open Market day of events. The exhibition is free and open to the public.
Play provides an excellent sample of contemporary artists interpreting the theme of play and features a variety of media including painting, drawing, printmaking, photography, sculpture and video. The lineup showcases a range of artists from student to professional, including several University of Southern Indiana students, alumni and faculty.
Thirty-eight artists were selected from over 100 submissions by regional, national and international artists. Artists selected for the exhibition include: Brett Anderson, Erika Anderson, Lydia Bargielski, Laicee Blackwell, Rora Blue, Rula Jones Brock, Justin Cecil, Samuel Couturiaux, Jon Cournoyer, Kyle Darnell, Mitzi Davis, Shannon Drowne, Olga Guse, Kenny DeMoss, Sarah Feagan, Avdi Hajdari-KAME,  Jon Hittner, Evan Kisner, Heather Landry, Ryan Mckain, Rob Millard-Mendez,  Kana Miyaura, Art Morrill, Joas Nebe, Jennifer Niswonger-Morris, Nancy Raen-Mendez, Megan Rademacher, Tracy Robb, Christina Robinson, Lauren Schmitt, Brian Simpson, Hannah Spurgeon, Travis Streutker, Olivia Supper, Curt Uebelhor, Bill Whorrall, Jennifer Weigel, and Dillon Wire.
Open Market is a collaboration between the New Harmony Gallery of Contemporary Art and the Mason-Nordgauer Fine Arts Gallery. At 1 p.m. Saturday, November 10, the event will begin with Creators on the Square, a New Harmony Gallery of Contemporary Art sponsored market featuring artists working in glass, ceramic, digital and traditional printmaking, wood, fiber and more at Maclure Square in downtown New Harmony. The Play reception will be held from 4 - 6 p.m. at the New Harmony Gallery of Contemporary Art. The Mason-Nordgauer gallery will host an art talk with Heather Gray at 6 p.m. and an Art Party following the talk.
This activity is made possible, in part, with support from the Efroymson family Fund, the Indiana Arts Commission and the National Endowment for the Arts, a federal agency.
The New Harmony Gallery of Contemporary Art is an outreach partner of USI. The gallery is located at 506 Main Street in New Harmony, Indiana. Regular hours are 10 a.m. to 5 p.m. Tuesday through Saturday. For more information, call 812-682-3156 or go to www.usi.edu/nhgallery.