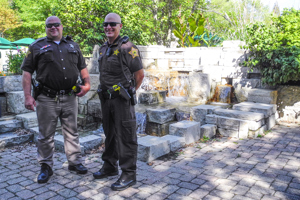 Deputy Chad Gries and Deputy Toby Wolfe have known each other for years. As boys, they both dreamed of careers in law enforcement. Both Evansville natives and baseball players, Gries and Wolfe played against each other in high school. Gries played at Reitz Memorial while Wolfe played at Harrison.
After high school, they parted ways, both chasing baseball scholarships at different schools. Wolfe finished his baseball career at USI as a catcher while completing a degree in sociology. Gries headed to John A. Logan College in Cartersville, Illinois, and earned an associate's degree in criminal justice. The former baseball rivals later became co-workers at the Vanderburg County Sheriff's Office(VCSO), and then in-laws when Gries married Wolfe's sister.
Both men are drawn by the beauty of the campus and the more relaxed atmosphere. "When you work the road for 20 years, it'sa really good change. It's exciting to be on the ground floor of this new partnership between USI and the Sheriff's Department, and so far, it's worked out really well," said Gries.
"It's been great to come back and be part of a ground-breaking opportunity," said Wolfe. "The change in USI is tremendous. It's a completely different place from when I was a student."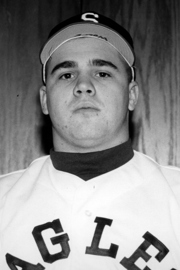 He never expected to return to USI, much less, run into his old mentor, Tim Mahoney, still teaching and advising students. "He was always available, you could walk into his office ask for help and he was there for you. Many student athletes turned to him for all kinds of advice," he said.
As a former USI student athlete, Wolfe followed USI's Baseball on the radio when they won national championships both times. And, while having easy access to attending a baseball game, he promises he won't be an arm-chair coach. "Archuleta is doing a good enough job without my help."
Not only will Gries and Wolfebe patrolling campus, they will also be in campus housing and on the USI/Burdette Trail. As the primary law enforcement agency for USI, the VCSO is responsible for investigating all crimes that occur on campus. Along with the officers in Public Safety, the five deputies assigned to campus have extensive crisis intervention training. They work with the University and Public Safety to ensure students and employees get whatever assistance they need.
For Gries and Wolfe it's a reunion and a homecoming, and the start of an exciting opportunity to be part of the growing USI family.