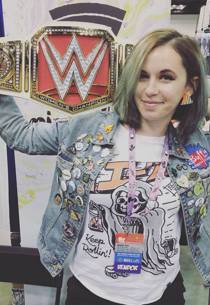 From her fondness of professional wrestling and roller derby to her love ancient Japanese block art, Kristina Arwood is a study in contradictions, wrapped up in a WWE wrestling belt with a pop art bow on top. She met her future husband Alex at a Friday night Pokémon League at Comic Quest in Evansville and designed their comic book style wedding invitations.
Arwood studied computers in high school and dabbled with the idea of going into computer programming. After graduating from Ivy Tech with an associate's degree in Liberal Studies, she planned to be a science teacher. But she couldn't escape the lure of art, by way of the biology department.
Graduating from USI with a Bachelor's of Science in Art in 2013 with an emphasis in graphic design, Arwood considered coming back to USI a homecoming. "Being a colleague is both weird and cool! There are times I don't feel worthy to be amongst these amazing minds and talent, mostly because I still feel like a kid when I'm around them," she said.  
As the marketing coordinator for the College of Liberal Arts, Arwood enjoys the variety her job entails. During a week, she might go to several cultural events to take photos for her college's social media channels, or interview a visiting artist. Whether she is updating the College web site, taking photos and videos, or working on creating the College's first marketing plan, she agrees that "There ain't no party like a Liberal Arts party." Let's find out a little more about this alumnus who considers working for the College of Liberal Arts to be a "God send".
---
I hear you were torn between a career as a science teacher and art. How did you decide on art?
"I began my college career at Ivy Tech because I thought I wanted to be a biology teacher and I had planned on getting my core classes out of the way and then coming to USI to major in biology. I had very good science teachers in high school. They made it fun and engaging. Like movie magic. You were learning about the way the world works. I liked science, but I loved art. When I took my first organic chemistry class, I realized I wasn't going to be a biology major. But, I still had a love of science. I loved how analytical and purposeful it was, so I took that and applied to graphic design. A lot of my art now, has a little bit of biology in it".
You were awarded the Efroymson Bridge Year Fellowship from The College of Liberal Arts after you graduated, what creative projects did you do during your gap year?
"Because I love science, my research and final projects had a science twist. I did a series of postcards on invasive species of nature in Indiana and a 15-foot long science time line on the unsung heroes of women in science from the 1600s to the present."
Who would be the artistic mentor you would want to have lunch with and pick their brain?
"Oh, there's probably a million of them. Forest J. Ackerman would be fun. He was the editor of Famous Monsters of Filmland which was a magazine that had articles about the actors and directors from that genre, still movie photos, conceptual art, and the horror/science fiction movie industry in general. It was started in 1958 and is still published today. Author Neil Gaiman, whose written everything from children's books to screen plays to comics. Some of the things you would have heard of are Stardust, Coraline and American Gods, all of which have been books, comics and movies or t.v. shows. Michael Allred, who is comic book artist. His comic book series iZombie was adapted to  television."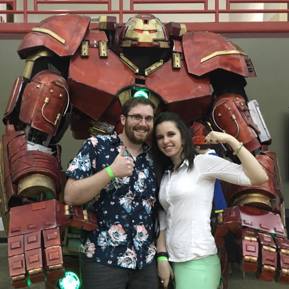 So, you seem to have an affinity with science fiction and horror. Where does that come from?  
"The old school horror you can blame on my dad, whose now 79. I used to watch all those classic science fiction shows on rerun with him, like The Outer Limits and Twilight Zone. He was also where I got my love for Creature of the Black Lagoon and Frankenstein, who figure into my art work quite a bit. These movie monsters were way before CGI and I found the make-up and special effects from the 1950's to be fascinating. The movie monsters of that era weren't evil, but misunderstood. As a little punk rock kid, I identified with them. Like Frankenstein, I was not that good at communication either!" 
Would you say that your art work, especially your McCutchan Art Center/Pace Galleries display on the invasive species could be a subconscious reference to your love of biology and horror movies?
"I think you're onto something. On the posters, I definitely tried to make each of the invasive critters seem villainous and maybe a little scary. It was partially to drive the point that even though they are pretty organisms that you may see around us often, it doesn't mean they are good for the rest of the environment. They're little devils.  Botany was one of my favorite biology classes. I learned a lot from that summer course with Dr. Maurice. One of my favorite takeaways from botany was learning how competitive plants are with each other."
What advice would you give that 18-year old Kristina Fitzgerald as she was getting ready to graduate from Central High School and start at Ivy Tech?
"Focus on art! Do what your good at! You're good at science, not art! Believe in yourself, and get off the internet!"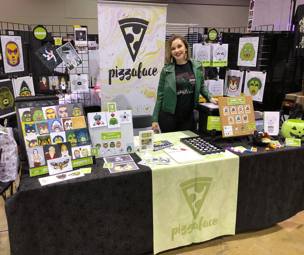 What advice would you give other students thinking about art as a career?
"Think outside the box. I did my time at a real estate company. There, I learned photography and photo editing. It was very fast-paced and business-oriented. But I learned a lot of skills I took with here to the College of Liberal Arts."
What do is your dream job? 
"Like all artists, it's to do art full time. Selling my art at one of the big comic cons, like San Diego Comic Con International would be pretty awesome."
Until she hits the big time in San Diego, you can check her monster inspired art out at local comic conferences across Indiana, Illinois and Kentucky. Stop by her booth at the Louisville Supercon Nov 30th-Dec 2nd. Or you can check out her Etsy store, artbypizzaface, or web site for all sorts of unusual holiday gifts from monster inspired clothing to jewelry to custom pet illustrations.