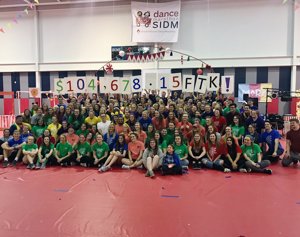 UPDATE: After 10 hours of standing, Southern Indiana Dance Marathon announced a final fundraiser total of $104,678.15, besting the 2017 total by more than $12,000. Photos and videos from the event can be found on the SIDM Facebook page at www.facebook.com/sidancemarathon.
Originally published on November 9, 2018:
Southern Indiana Dance Marathon (SIDM) is back at USI for its eighth year and needs your support. Dance Marathon is a rapidly growing nationwide movement that started right here in Indiana. Participants stand on their feet and dance for 10 hours straight – no sitting or sleeping - to raise money for Riley Hospital for Children. This year's Southern Indiana Dance Marathon will start at noon Saturday, November 17, in the Recreation, Fitness and Wellness Center.
Last year, SIDM raised over $92,000 for Riley. Kayla Jordan, SIDM president, said there isn't a specific dollar goal for this year, but the group has decided to focus more on Dance Marathon as a whole, Children's Miracle Network, and the Riley children and their families. However, she said they would love to break the $100,000 mark this year. As part of their efforts to reach that goal, members of SIDM raised more than $12,000 through the "Day of More" campaign on Thursday, November 8 as part of Riley Week.
While Dance Marathon is a student's only event as far as participation goes, faculty and staff are encouraged to come out the day of the event to show support and cheer on the dancers without paying the registration fee. Another way faculty and staff can get involved is by donating; all of the funds raised go to the Riley Children's Foundation, the fundraising arm of Riley Hospital for Children. Donations are used to support groundbreaking pediatric research, patient programs that need additional funding, Riley Maternity and Newborn Health and Family Support Programs such as Child Life and Social Work.
If you are interested in donating to the group or individual participants of Southern Indiana Dance Marathon, visit donate.rileykids.org/sidm2018.