Public Safety Officer Jacob Gould down plays the idea of being thought of as a hero. He joined the Army, like others before him, to make a difference. As an infantryman, he put his skills to work as a combat life saver (CLS) during a year of combat duty in Afghanistan.
"The role of a CLS is to provide life-saving intervention and treatment, like an EMT, until higher medical service providers arrive, which would be the medics," said Gould. "Unfortunately, during my time in Afghanistan, I had to use my training and skills as a CLS often." 
At USI, he used his knowledge with an unlock kit to rescue a toddler accidentally locked inside a car (along with the mother's keys) on a 95-degree day this past summer. With the distraction of the frightened toddler's loud crying and the mother's panic, Gould got the door unlocked in about 30 seconds. By the time the ambulance arrived, Gould had the child calmed down and treated for heat exposure. "The mother and child were getting ready to leave when AMR arrived. It was our USI medical services that provided the aid and treatment of the child. A lot of people don't know this, but most of our Public Safety officers are nationally certified EMTs." 
Public Safety officers take classes to keep up their certifications in everything from emergency response to crisis intervention. "It's a lot more than what I thought was involved when I first started here a year-and-a half ago," said Gould. "It's not just a glorified security job. We get to do a little bit of everything. There's never a boring day on campus. This is the best job that I've had since I left active duty." 
As a drill sergeant in the Army Reserves, Gould becomes a teacher during 10-week basic training drills, as he and his staff mentor and mold 260 new recruits into combat-ready soldiers. "It's one of the most stressful and demanding, yet rewarding jobs in the Army." He also teaches basic medical and CLS certification classes for the Army. One weekend a month, he helps with the supporting the training of other Army Reserve and National Guard units that are getting ready to deploy or perform other functions as needed.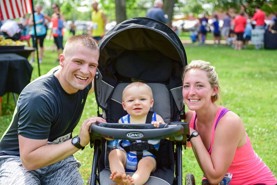 Gould is not the only soldier in his house. His wife, Brandy, is in the Army. They met in Fort Jackson, South Carolina, where she was attending school at the U.S. Army Chaplain Center and he was in the drill sergeant academy. They married, expanded their family to include a young son, Bryson, and eventually moved to Evansville.
This summer, Gould's wife will assume the hero mantle as she packs up and heads to Iraq for a 9-month mission. As a chaplain's assistant she will provide support emotional support, peer counseling to the soldiers and coordinate religious services for soldiers far away from home.
In her absence, the Gould men will carry on, Army strong.