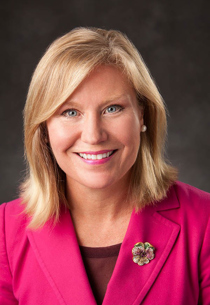 Governor Eric Holcomb has reappointed two trustees to the University of Southern Indiana Board of Trustees and named a new trustee to the board. Returning trustees are W. Harold Calloway and John M. Dunn, both of Evansville. Calloway, current board chair, and Dunn were reappointed to serve four-year terms. Both were first appointed to the board in 2006 and have previously been reappointed in 2010 and 2014.
The new trustee appointment is Christine H. Keck of Evansville.
Keck (pictured) serves a dual role in the government affairs arena as director of Federal Government Affairs for Vectren Corporation, headquartered in Evansville, Indiana, and director of Government Relations for Newburgh, Indiana-based Energy Systems Group (ESG), a wholly owned subsidiary of Vectren. She was previously the director of Strategy and Business Development for ESG's Utility Services and Renewables Group. Prior to joining ESG in 2008, she served as senior vice president and as a southern region corporate lending executive for Old National Bank in Evansville, where she began her career as part of the bank's Management Training Program, and worked in a variety of capacities, primarily in the commercial and corporate lending groups.
Keck attended McGill University in Montreal, Canada, and graduated from Indiana University in Bloomington, Indiana. She has received several professional certifications including the prestigious designation of CRC (Credit Risk Certified), by the Risk Management Association, a National organization dedicated to the use of sound credit and lending practices in the financial services industry.
In October, Keck will become the chairman of the Southwest Indiana Chamber of Commerce Board of Directors. In 2018 she was awarded the Sara B. Davies Award by Leadership Evansville. She has also been a finalist for the Athena award in 2018, 2014 and 2012. In 2015, she was recognized with the national Energy Champion award by the Energy Services Coalition. Keck is active in energy industry associations, including the American Gas Association, the Edison Electric Institute,  the Federal Performance Contracting Coalition,  the National Association of Energy Services Companies and the Energy Services Coalition, for which she is the past board president.
The USI Board of Trustees has nine trustees and must include one alumnus of the University, one current student, and one resident of Vanderburgh County. Trustee terms are for four years, except for the student term, which is two years.