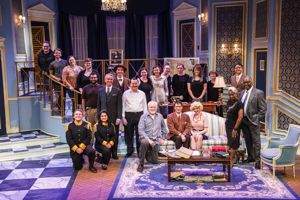 New Harmony Theatre will continue its 31st season this summer 2018 with the musical Nunsense with book, music, and lyrics by Dan Goggin.  The play runs July 13-15 and July 19-22 at the Murphy Auditorium in historic New Harmony, Indiana.
Here it is, the original Nunsense, the second longest running Off-Broadway show in history. Audiences can't get enough of these five wacky Little Sisters of Hoboken, who are using their talents to raise a bit of the cash necessary to hold funerals for those in their order who have succumbed to eating some bad vichyssoise. Don't let the note of tragedy fool you. This musical is a hoot and a half! The Mother Superior is an ex-circus performer who craves the spotlight, and her little company of performers could not be more ridiculous as they sing and dance in habits while steering a careful course between the irreverent and the madcap. Audiences love these crazy characters, such as Sister Mary Leo, who wishes to become the world's first ballerina nun, and Sister Mary Amnesia, who lost her memory after a crucifix fell on her head. Nunsense has spawned several sequels, but Dan Goggins' original is still going strong on stages all over the world.
Nunsense is directed by New Harmony's artistic director, Elliot Wasserman.  Veteran New Harmony Theatre actors Sue Schriber and Noreen Eddy are joined by Lydia Ruth Dawson, Marlaina Powell, and Laura Stracko.
They will be joined by a design team from including USI faculty members Paul Weimer as scenic designer, Maya Michele Fein as lighting designer, and Shan Jensen as costume designer; USI staff members Kevin Gray as sound designer and Andy Hammond as technical director; Actors' Equity Stage Manager Erin Joy Swank and Actors Equity Assistant Stage Manager Margaret Kayes; musical director Patrick Ritsch; and choreographer Robin Levine.
Single tickets are $35 for an adult, $33 for seniors age 60+, $12 for ages 25 and under, and $31 for USI employees.  Season package tickets are also available.  Shows start at 7:30 pm on Friday nights, 2 pm and 7:30 on Saturdays, and a 2 pm matinee on Sundays.  New to the 2018 season are Thursday evening performances on July 19 and August 2, which will begin at 7:30 pm and only cost $24 per ticket.  To purchase tickets or for more information, visit USI.edu/nht or call the box office at 812-465-1668.  Follow on Facebook at New Harmony Theatre for updates and photos.
Are you wanting more theatre? Tickets are now on sale for the rest of the season. Join us the 1980 Pulitzer Prize winner Talley's Folly, directed by Eric Altheide from July 27-29 and August 2-5. For more information on the remainder of the season visit USI.edu/nht or call the box office at 812-465-1668.  Follow on Facebook at New Harmony Theatre for updates and photos.