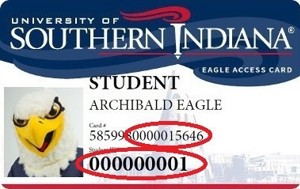 UPDATE: The tentative date for the new purge/update is Saturday, July 28.
On Tuesday, July 17, USI Public Safety will conduct a purge of the card reader access database in order to clean up the system and ensure that all cardholder data is accurate and up-to-date. Public Safety will then manually re-enter all Eagle Access Card and building access information, so there will be a disruption to campus card reader access during that period. 
Prior to July 17, department heads should submit a list of current staff, faculty and/or students who require card access to buildings and rooms within their area of responsibility, as well as a list of personnel who are authorized to act as designees to request card access for that area. 
Please review the card access policy below and contact Public Safety at PSCardAccess@usi.edu with any questions.
Requests for card reader access to facilities must be submitted via the Card Reader Access Request Formand emailed to the Public Safety at PSCardAccess@usi.edu as an attachment, not in the body of the email.
The form must be typed legibly. Handwritten forms will not be accepted.


All requests for card reader access must be submitted by the dean or department chair (or their authorized designee) responsible for the building/room for which access is needed, using a valid USI email address.


The list of authorized designees should reflect any personnel changes during the academic year.


Requests should include student/employee – first name, last name and middle initial; Banner (student/employee) ID number; card number (see below); and the specific room number(s) (not the name of the lab/area) for which access in needed. (No nicknames.)


Student card access is 24/7 and expires at the end of the current semester. If specific, restricted or extended access is required, it must be approved by the Director of Public Safety or his designee.


Allow two to four business days for access requests to be entered into the system.


If a student or employee no longer requires access, or is no longer allowed access to one or more areas, an authorized requestor must send an email to PSCardAccess@usi.edu requesting removal of the access.
If an individual needs access to a facility before the system is restored, Public Safety can admit them either by sending an officer or by electronically "buzzing them in" from Dispatch.
Anyone with an old card (i.e. Banner ID only on the front) will need to get an updated Eagle Access Card from the Eagle Access Office located in the lower level of University Center West. There is no charge if an old card is returned.
Card Access requests require the following information: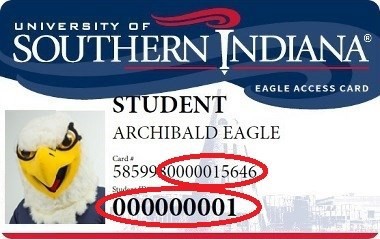 Last name, first name and middle initial (must match Banner). (No Nicknames)
Card Number

Card Numbers always begins with 585998; Only the 10-digit number that follows is needed
If a replacement card is issued, the card number will change.
The new card number must be submitted to the Public Safety at PSCardAccess@usi.edu for activation.

Banner ID Number (Student/Employee ID Number)