Free ice cream social for USI employees
National championship giveaway and play it forward donation drive
Free ice cream social for USI employees
National championship giveaway and play it forward donation drive
7/10/2018 |
University Communications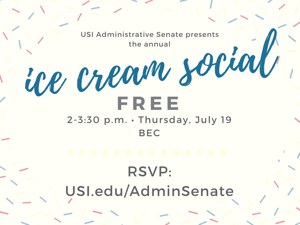 Administrative Senate invites USI employees to the annual Ice Cream Social from 2 to 3:30 p.m., on Thursday, July 19 in the Business and Engineering Center, Vectren Lakeside Study Lounge and Balcony.
To celebrate the start of a new academic year, enjoy free ice cream, enter a giveaway for national championship gear and take a photo with the softball national championship trophy.

This year, Admin Senate is partnering with the Children's Learning Center to host a "Play It Forward" donation drive. Employees are encouraged to bring donations for gross-motor play to the Ice Cream Social. Sought out item include:
Buckets
Hula hoops
Pool noodles
Huge spools
Yard games: Yardzee, Yard Jenga, Yard Checkers
Large pinecones
Wood from fallen trees
For more information and to RSVP for the Ice Cream Social, visit USI.edu/AdminSenate.