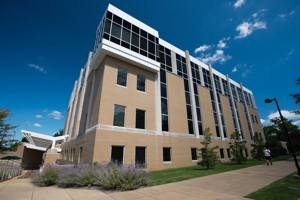 The Indiana Commission for Higher Education approved a Bachelor of Arts/Bachelor of Science in Statistics degree program to be offered through the University of Southern Indiana on Thursday, June 14. The new program, which is housed in the Pott College of Science, Engineering, and Education, will begin in the fall 2018 semester.
The Statistics degree program will support the Pott College's commitment to prepare individuals with rigorous and diverse experiences, both within the program and across the science, technology, engineering and mathematics (STEM) fields. Students pursuing degrees in mathematics, computer science, social science, or other programs may complement their degrees with coursework or a second major in statistics.
"We see data every day in the media, on the web, or when watching our favorite sport. Statistics are also the heart of many research programs," said Dr. Rick Hudson, associate professor of mathematics and chair of the Mathematics Department. "Offering a statistics degree not only impacts the students in the degree program, it has the potential to influence our greater community and research endeavors at USI and beyond."
The U.S. Bureau of Labor Statistics estimates statisticians will be the seventh fastest-growing occupation in the 10-year period from 2016 to 2026 with an estimated growth rate of 34 percent. Similarly, the Indiana Department of Workforce Development's Occupational Demand Report estimates that there will be a 39 percent increase in the need for statisticians in Indiana across the same period. This ranks as the fourth largest change in the state, and the third largest change among occupations requiring a college degree.
For more information, visit USI.edu/math/statistics or contact Hudson at rhudson@usi.edu.