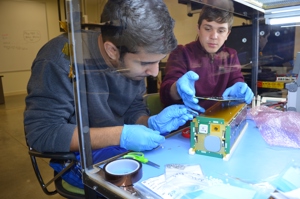 After undergoing a series of tests and verifications, the University of Southern Indiana UNITE CubeSat, a micro-satellite which is the first spacecraft to be built at USI, has completed all of its tests and will be delivered for a deployment from the International Space Station (ISS) in early 2019.
The satellite, the product of a NASA Undergraduate Student Instruments Project grant, passed its final Vibration Test in Indianapolis on Tuesday, April 17. The CubeSat also received additional testing at the University of Illinois Urbana-Champaign and Morehead State University.
A team of USI students, under the mentorship of Dr. Glen Kissel, associate professor of engineering, designed, constructed, and programmed the CubeSat to NASA specifications, and has been lauded by NASA and the Indiana Space Grant Consortium for both their efforts and their accomplishments.
The UNITE CubeSat will be delivered to a deployer in Houston later this summer, which will then be placed in a cargo resupply ship by NASA for delivery to the ISS in November. After deployment, the CubeSat is scheduled to measure plasma in the lower ionosphere for 18 months before returning to Earth as part of a plan to measure orbital decay.
Kissel and the USI student team were featured in the Fall 2017 issue of illume, the USI magazine. A photo album of images of the UNITE CubeSat and the USI team can be found on the USI Photography website here.