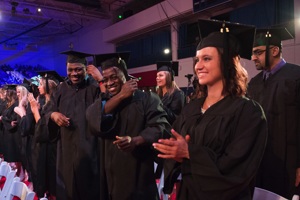 Watch USI's Commencement ceremonies live
The University of Southern Indiana will hold five Spring Commencement ceremonies over two days, April 27 and 28, in the Physical Activities Center (PAC) on the USI campus.
The Graduate Ceremony for master and doctoral degree candidates from all of USI's colleges will be held at 6:30 p.m. Friday, April 27. On Saturday, April 28, the undergraduate ceremony for the Romain College of Business will begin at 9 a.m.; the College of Liberal Arts at noon; Pott College of Science, Engineering, and Education at 3 p.m., and the College of Nursing and Health Professions at 6 p.m.
1,599 students are eligible to participate. Of those, 28 graduate summa cum laude, 132 magna cum laude and 157 cum laude. 50 graduates are University Honors Scholars – students who have successfully completed the Honors Program – and can be recognized by the white honor cords worn with their regalia. Members of the graduating Class of 2018 will join the USI Alumni Association, which, following Spring Commencement, will number more than 42,000 alumni across Indiana, the United States and the world.
Speakers at each Commencement ceremony will be USI alumni who have excelled in their professional lives.
Friday, April 27
The speaker for the Graduate Ceremony is USI president Dr. Linda L. M. Bennett. Bennett has served as USI president since 2009 and has been with the University since 2003. Since coming to USI, she has led initiatives focused on enrollment and retention management, outreach and engagement, faculty development, the retention of intellectual capital, accreditation renewal, and long-range planning. Bennett will retire on June 30.
Also at the Graduate Ceremony, honorary Doctor of Laws degrees will be presented to Daniel M. and Janet L. Fuquay, of Evansville, for their commitment to higher education and to the USI student experience, and to Chris Melton, for three decades of service to USI including 20 years as president of Southern Indiana Higher Education, Inc.
Saturday, April 28
The 2018 Commencement speaker for the Romain College of Business is Marshall L. Byers. Byers graduated from USI in 1994 with a bachelor's degree in business administration with a concentration in finance and is enrolled in USI's Master of Business Administration online program with expected graduation in spring of 2019. He is currently the Private Client Advisor Vice President for Investments for J.P. Morgan Chase in Indianapolis.
Patricia S. Avery '04 will serve as the speaker for the College of Liberal Arts. A graduate of USI, Avery, completed a Bachelor's degreein Radio and Television with an emphasis in journalism in 2004. She is currently a Financial Empowerment Program Specialist at Consumer Financial Protection Bureau in Washington, D.C. Also at the College of Liberal Arts ceremony, Virgilio E. Paulino will receive the President's Medal, the highest honor the University presents to a graduate. Paulino is graduating magna cum laude with degrees in political science and philosophy and has served as a devoted student leader in multiple student organizations during his time at USI.
Dr. Kirt A. Page '98 is the speaker for the 2018 Pott College of Science, Engineering, and Education Commencement ceremony. Page, who earned a bachelor's degree in chemistry from USI, recently accepted the position of Dean of Academic Affairs at Connect University in Yangon, Myanmar. In this role, he is the chief academic officer responsible for planning, implementing and coordinating the educational programming and academic policies of Connect University.
The speaker for the College of Nursing and Health Professions ceremony is Kimberly J. Harper '87 '13,  chief executive officer at the Indiana Center for Nursing in Indianapolis. Harper received a diploma in nursing from Deaconess Hospital School of Nursing in 1976. In 1987, she earned her first degree from USI, a bachelor's degree in nursing, and in 2013, a bachelor's degree in health administration. Harper also received a master's degree from Indiana Wesleyan University in 1991.
Guests of graduates participating in all five ceremonies will require tickets to attend. For more information about all ceremonies, as well as links to other Commencement information, go to USI.edu/commencement.
Live video of each ceremony will be streamed in the University Center East Conference Center (Rooms 2217-2220). You also can view ceremonies via a livestream online. Instructions are available at www.usi.edu/live-stream.