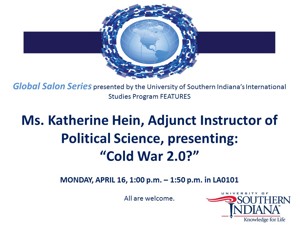 A lecture by Katherine Hein, University of Southern Indiana adjunct instructor of political science, will take place at 1 p.m. Monday, April 16 as part of USI's 2017-18 Global Salon Series. The lecture, entitled "Cold War 2.0?" will be held on campus in Kleymeyer Hall in the lower level of the Liberal Arts Center and is free and open to the public.
The Global Salon Series, founded in 2011, is comprised of three to four lectures from USI faculty and community figures that focus on current global issues. The series provides students with a richer understanding of international relations, while giving USI faculty the opportunity to share their current research with the public.
The series gets its name from the 17th century definition of a salon: a gathering where people come together to discuss and share knowledge of the social, cultural, political and philosophical ideas of the time. Hein  was among the first foreign exchange students at Charles University in Prague, Czechoslovakia through the Council on International Education Exchange after the end of the Cold War in 1991. She plans to "discuss the Cold War revival we are experiencing and compare and contrast it with the actual Cold War." 
Hein has been teaching at USI for thirteen years and has taught courses for the College of Liberal Arts and the Department of Political Science, and will be teaching International Studies beginning this fall. Hein earned bachelor's degrees in Russian language and literature and East Central European Studies from the University of Colorado at Boulder and a master's degree in public administration from Columbia University,
For more information contact Dr. Daniel Bauer, assistant professor of anthropology, at 812-465-7065 or debauer@usi.edu.