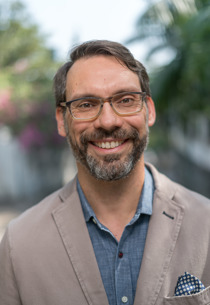 The University of Southern Indiana will hold a Commencement ceremony for undergraduate students in the Pott College of Science, Engineering, and Education at 3 p.m. Saturday, April 28 in the Physical Activities Center (PAC) on the USI campus.
Dr. Kirt A. Page '98 is the speaker for the 2018 Pott College of Science, Engineering, and Education Commencement ceremony. He recently accepted the position of Dean of Academic Affairs at Connect University in Yangon, Myanmar.
A graduate of USI, Page received a bachelor's degree in chemistry in 1998, graduating cum laude. He was honored with a Fulbright fellowship at the University of Mainz in Germany after graduating from USI. He earned his doctoral degree in polymer science and engineering from the University of Southern Mississippi in 2005.
In 2005, Page began working with the National Institute of Standards and Technology (NIST) as a National Research Council Postdoctoral Fellow. In 2014, his family moved to New Delhi, India, due to his wife's work, and Page became was a high school mathematics and science instructor at the American Embassy School. When they moved to Yangon, Myanmar in 2017, he began working as a freelance science editor, writer and educator. Page's most recent position of Dean of Academic Affairs at Connect University is most significant because of the current rise of higher education in Myanmar. In this role, he is the chief academic officer responsible for planning, implementing and coordinating the educational programming and academic policies of Connect University.
Recognition for Page's research includes a multitude of publications and awards, but most notably, he was one of 15 U.S. delegates chosen out of more than 300 applicants to participate in the Arab-American Frontiers of Science, Engineering, and Medicine Symposium. Page and his wife, Jessica Farmer, live in Yangon, Myanmar with their children Kendon and Bodhan.
Guests of the graduates will require a ticket to attend the ceremony. A reception for the graduates and their friends and families will follow the ceremony and will be held in University Center East.
Three other colleges at USI will conduct ceremonies on April 28 according to this schedule:
Romain College of Business and Outreach and Engagement, 9 a.m.
College of Liberal Arts, noon
College of Nursing and Health Professions, 6 p.m.
A commencement ceremony for graduate students will be held at 6:30 p.m. on Friday, April 27.
Live video of each ceremony will be streamed in University Center East Conference Center (Rooms 2217-2220). The ceremonies also may be viewed online at USI.edu/live-stream.