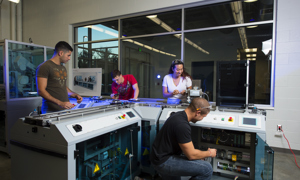 The Indiana Commission for Higher Education approved a Bachelor of Science in Electrical Engineering (BSEE) program at the University of Southern Indiana at its meeting on Thursday, March 8. This program, housed in USI's Pott College of Science, Engineering, and Education, will begin in the fall 2018 semester.
The BSEE program will offer students hands-on learning experiences, opportunities to participate in co-operative education and internships, and student organizations that participate in national engineering competitions. Indiana's Department of Workforce Development website projects that growth in electrical engineering jobs will be 3 percent for the state and 7.3 percent for the Evansville area through 2024.
In addition to the BSEE, the Pott College offers Bachelor of Science in Engineering, Mechanical Engineering and Manufacturing Engineering programs, as well as emphasis areas in civil engineering, electrical engineering, industrial engineering, mechanical engineering, and mechatronics. The Bachelor of Science in Engineering program is accredited by the Engineering Accreditation Commission of ABET.
"Our discipline-specific offerings of mechanical and manufacturing engineering have been tremendously successful; graduates from those programs are already having an impact on our local economy," said Dr. Zane Mitchell, dean of the Pott College. "We expect similar results from the Electrical Engineering Program."
Information about the BSEE program can be found on the USI website at USI.edu/engineering.