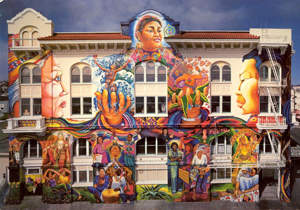 The University of Southern Indiana Society for Arts and Humanities will be hosting a presentation by Dr. Guisela Latorre, associate professor of women's, gender and sexuality studies at the Ohio State University, at 7 p.m.Wednesday, February 28, in Kleymeyer Hall, located in the lower level of the USI Liberal Arts Center. The presentation, entitled "Chicana Feminist Murals of Resistance," is free and open to the public with a reception to follow.
Latorre specializes in modern and contemporary U.S. Latin and Latin American art with a special emphasis on Chicana/Latina feminism. She has a bachelor degree in art from USI, a master's degree from the University of Cincinnati and a doctoral degree from the University of Illinois at Urbana-Champaign.
Latorre is the author of Walls of Empowerment: Chicana/o Indigenist Murals from California (2008) and the co-author of ¡Murales Rebeldes! L.A. Chicana/Chicano Murals Under Siege (2017). Her other publications include "Installation Art, Transnationalism, and the Chinese-Chicano Experience" (with Richard Lou) in The Routledge Companion to Latina/o Popular Culture (2016), and "Exiled creativity and immigrant aesthetics: the politically transformative work of Liliana Wilson" in Ofrenda: Liliana Wilson's art of dissidence and dreams (2015). Her current book manuscript, "Democracy on the Wall: Street Art of the Post-Dictatorship Era in Chile," is under review with the Ohio State University Press.
For more information, contact Hilary Braysmith at 812-464-1740 or hbraysmi@usi.edu.