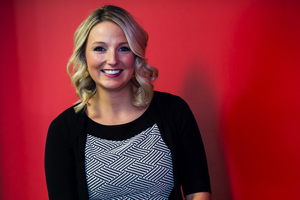 An immediate sense of belonging, and feeling that your skills are being invested wisely, often are the beginning of a long and fruitful career with a new organization. Natalie Rascher, who taught as an adjunct professor in personal health at USI, found that when she stepped into a newly created role, Human Resources Business Partner.
The position was established to build resource channels and enhance employee well-being and engagement. In this role, Rascher will help with strategic initiatives involving employee self-care, financial literacy and Title IX coordination, as well as serving as a project manager for the Human Resources Department. Future plans include restructuring employee orientation and on-boarding, and performance evaluations.
As an Evansville native with a deep connection to the community, she hopes to introduce new faculty or staff coming from different areas to the Evansville region and its offerings. "USI is supported so much through our community. We want to come full circle and say, 'How can we re-engage with the community to keep that support?'"
Rascher will help build networks with Human Resources and other departments and colleges campus-wide and will help streamline processes. Creating a cohesive, streamlined system is something Rascher is accustomed to doing. While working at Deaconess as a health advocate and certified health education specialist, her natural curiosity and outgoing personality led to conversations with others about their work. She began to see gaps that could easily be filled by bridging the work done by departments with others. Her efforts not only improved and streamlined customer service, but also saved the hospital a lot of money.
She also would like to establish a mentorship program for new employees, matching them with an employee who knows the ins and outs of the University, much like the student Amigo Program. "It would be great for them to meet with their mentor quarterly for the first year, to have someone to check in with and ask how they're doing, or help them navigate and learn about the University."
She hopes to learn about employee needs and connect them with individuals on campus who can assist them. She not only wants to learn about your role on campus, but also to get to know you.