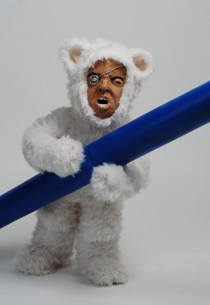 "I Made This for You," an exhibit created by Matt Perez, a 2015 graduate, during his yearlong Efroymson Bridge Year Fellowship at the University of Southern Indiana, will open Sunday, February 25 in the McCutchan Art Center/Pace Galleries, located in the lower level of the Liberal Arts Center on the USI campus. The exhibition will continue through Wednesday, March 14.
Perez, who received a bachelor's degree in studio art from USI, has transformed the four galleries in the McCutchan Art Center into colorful, whimsical and symbolic tableaus. In his artist statement, he says, "The job of an artist is much like the job of the historian, documenting the story of human societies; however, while history concerns itself mostly with dates and numbers, the artist has the ability to capture the ethos of people surrounding them."
Six Ethereal Spirits float through the galleries, guiding viewers through the scenarios presented. Child's Play is an installation of small figures, "the Toddlers," engaged in battle, using pencils and other creative tools as weapons. For Perez, they represent the artist's "arrested development" but through persistence and focus, the idea that one can make a career in art.
Grendel's Greed refers to the folk tale, "William Tell." "In my version Grendel is asked to stay true to his convictions and shoot an apple off his own son's head, missing completely while simultaneously hitting the center of a dart board," says Perez. "My (installation) attempts to portray the hidden agenda that I feel greedy people have".
The Efroymson Bridge Year Fellowship is a competitive award program that provides a highly motivated and talented recent graduate of USI's Art and Design Department with a post-undergraduate year to develop his or her artistic vision significantly in order to gain successful acceptance to graduate study. The fellowship is funded by the Efroymson Family Fund of the Central Indiana Community Foundation.
The Kenneth P. McCutchan Art Center/Palmina F. and Stephen S. Pace Galleries is open from 10 a.m. to 4 p.m. Monday through Friday, and 1 to 5 p.m. Sunday. For more information, call 812-228-5006.