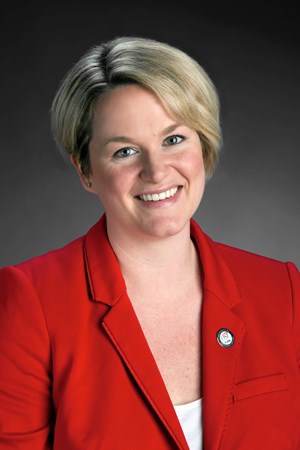 This shout-out comes from Taylor Gogel
Andrea is not only an exemplary employee, but an alumna of USI. Every day I witness the dedicated care she possesses for our University – she uses both of her roles as a means to personify ScreaglePride.

She truly has a genuine passion for connecting individuals to the USI mission. Andrea fully embodies what it means to "shape the future" through her ability to invite USI family members, alumni and friends to be a part of USI's future. She has a unique ability to make everyone feel warm and welcome and is the best ambassador that I know.

I cannot imagine anyone else who is wholeheartedly invested in campus as much as she. When I see Andrea adorn her USI lapel pin, I know it is much more than apparel for her. That lapel pin signifies a deep honor and personal conviction she has for this institution. She never takes her experience for granted and works hard to ensure other students receive a transformational education, just as she did.

She has taught me what a Screagle truly is. It is someone who not only speaks to the greatest of USI, visibly wears spirit gear or posts a photo of campus on social media – it is someone who is willing to connect with people, listen and begin lifelong friendships. USI is a place of innovation, hospitality and mentorship. Andrea has all three qualities.
She never lets her ego enter any conversation, and is the first to say, "I do this for USI, not myself." However, there are so many moments in which she has deserved credit and I feel this is an opportunity to make her efforts known. There are countless University friends and alumni that have connected closely to campus because of her infectious personality and ability to match their interest with University causes.
(Andrea is the director of development in USI Foundation.)
Do you know someone who deserves a shout-out for their contributions and dedication? Send your shout-out to Angie O'Nan at amonan@usi.edu.