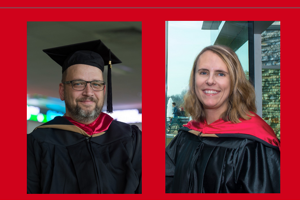 Two faculty members have taken care of business by attaining a Masters of Business Administration (MBA) degree. Dr. Richard Bennett, associate professor of biology, and Melissa Bullock, adjunct in Nursing and Health Professions, will both be updating their curriculum vitae after Fall Commencement. Bennett went the traditional classroom route, while Bullock went through the Online MBA Program.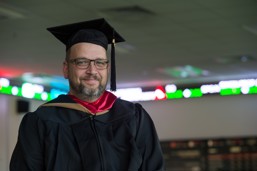 Bennett became interested in trading options and wanted to learn how to read the reports, so he took an accounting course. That course led to a broader interest in business and he went on to pursue the MBA. "I find it important to be observant of, and prepared for, opportunities that present themselves," he said. "One way to do that is to gather as much knowledge as I can. Sure, I could read books, but it's not the same as being in a class, with a professor and engaging in discussions with the professor and other students." It also gave him a better understanding of the operation of the University. "Any university has the same concerns, duties, obligations and operations as a business."
Bullock was working in a position that required her to be knowledgeable about the business side of health care operation. "I have a strong clinical background, so I wanted to obtain the MBA to round out my scope of knowledge to add value to my organization," she said. The combination of my MBA and Masters of Health Administration (MHA) will allow me to bring different perspectives and assist with making educated decisions that will positively impact the quality of health care delivered in our community and across the country."
Both Bennett and Bullock sited "time management" as the single greatest challenge. In addition to teaching, each also had to balance their student role with professional obligations, parenthood, marriage and life in general. Discovering the book, Getting Things Done by David Allen, changed the way Bennett planned his time. "It taught me how to prioritize and organize tasks," he said. "I began scheduling time at home, allotting time on the weekend to work on MBA tasks, and my professor tasks. As a result, I became more efficient, less stressed, more confident and organized." In fact, Bennett shared his insight previously in USI Today in the article "Five tips for better productivity and time management."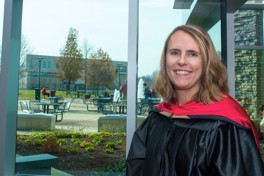 Bullock took the accelerated seven-week courses online, often more than one class at a time. "I learned that I'm capable of wearing many different hats," she said. "It's very empowering to know that I'm able to manage all my responsibilities and still be eager to learn."
While learning as a student, both were able to incorporate in real-time, what they learned into the lessons they taught. Whether it was actual material to share with students, teaching techniques or assignment ideas, they were eager to use what they learned. It also served as a reminder of the struggles students face and gave insight into how to help students navigate through these obstacles.
Bennett said that USI's tuition benefits have made him feel like "a kid in a candy store." He has already signed up to be a studio art major beginning spring 2018.