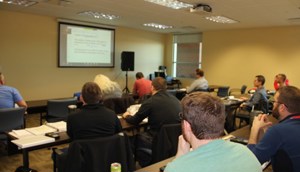 A program that began in January partnering Crane Naval Surface Warfare Center (NWSC Crane) with the University of Southern Indiana is showing early success as it nears the end of its first year. The new Technician-to-Engineer degree program gives students with some previous technical college education the opportunity to earn a bachelor's degree in interdisciplinary engineering. The program is part of an ongoing educational partnership between Crane and USI.
"We're excited about this program," said Dr. Zane Mitchell, dean of USI's Pott College of Science, Engineering, and Education. "This partnership is the result of a request from Crane and a response to a regional need. Crane has been a longtime and important partner for us. We have a long history of collaboration and we've made great strides in the tech transfer and commercialization areas. Crane is also a great employer of USI grads."
While the program is open to anyone, the main focus is on advancing careers for employees at NSWC Crane. The first cohort began in January and is primarily made up of Crane employees, with the addition of a couple of outside contractors.
"The objectives for this program are to provide our employees with education opportunities for personal growth and skill development, while at the same time increasing our organization's technical capabilities and growing our engineering workforce," said Scott Karcher, program coordinator for NSWC Crane. "In addition, we hope this program will serve as a model for more postsecondary educational offerings in this region."
Students take 2-3 classes each semester while working full-time. Mitchell said most students should be able to complete their degrees within four to five years, depending on how many college credits transfer. Most students come into the program with a year or two of credits. Classes primarily meet at the WestGate Academy, located just outside the base, with a mix of either distance learning or in-person instruction from USI faculty.
Tanner Bailey, currently an engineering technician at Crane, jumped at the chance to take part in the first cohort of students in the USI Technician-to-Engineer degree program. He graduated from IUPUI in 2015 with a four-year electrical engineering technology degree. "I have a good career here at Crane," he said. "But having an engineering degree would benefit my career greatly—not only the financial difference, but the ability to advance in my career. My current role include a lot of coding and programming for testing and data analysis. Having an engineering degree would further enhance my knowledge and ability to analyze and explain anomalies." 
For Aaron Eaker, another Crane technician, finding a way to continue his education while still working and supporting his family seemed impossible. He instead chose to pursue a bachelor's degree in business administration from Oakland City University, a task he completed in three years by taking night, online and video teleconferenced classes. Now, Eaker is enrolled in the first cohort of students in the Technician-to-Engineer Program. "With an engineering degree, I feel I'll be a productive member of the engineering community at NSWC Crane, much like I have been as a part of the technician community," said Eaker. "Also, having my business management degree I'll be able to offer both technical contributions as well as assume a formal leadership role."
For more information about USI engineering programs visit USI.edu/engineering or call 812-465-1090.