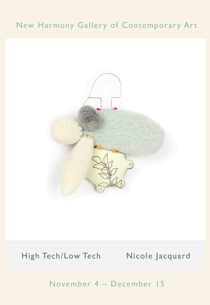 The New Harmony Gallery of Contemporary Art's newest exhibition, High Tech/Low Tech by Nicole Jacquard, will open on Saturday, November 4 and run through December 15. An free opening reception will be held at the Gallery beginning at 4 p.m. Saturday, November 4 during the final Art and Antique Stroll of the year.
Jacquard explores themes of nostalgia, longing and memory through the creation of souvenir like objects and personal ornamentation, such as brooches. The work in High Tech/Low Tech explores how everyday objects become precious through personal association.
High Tech/Low Tech utilizes traditional techniques, such as felting, as well as computer-aided design processes including 3D color printing, fused deposition modelling, laser cutting and engraving and the use of a 3D doodle pen. All work within the exhibition was created with the aid of the computer in some way or another, whether it was for template layouts, dies to press out metal shapes or objects printed in three dimensions.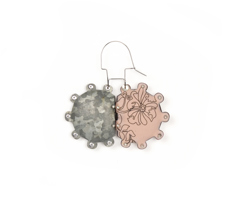 Jacquard, associate professor of jewelry, metalsmithing and sculpture at Indiana University received a bachelor's degree from IU and her first Master of Fine Arts from the University of Michigan. She received her second Master of Fine Arts and a doctoral degree in Fine Arts from the RMIT University in Melbourne, Australia. She is currently conducting research on historical Scottish annular, penannular and pseudo-penannular brooches at the University of Dundee in Scotland.
This exhibition is possible through the generous support of the Efroymson Family Fund, the Indiana Arts Commission and the National Endowment for the Arts.
The New Harmony Gallery of Contemporary Art is a program within University of Southern Indiana Outreach and Engagement and is located at 506 Main Street in New Harmony, Indiana. Regular hours are 10 a.m. to 5 p.m. Tuesday through Saturday, and noon to 4 p.m. Sunday. For more information, contact Garry Holstein, at 812-682-3156 or visit USI.edu/nhgallery.