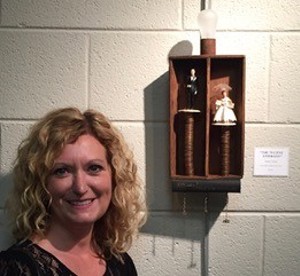 Old clock parts, gears, rusty nails, broken mirrors and old magazines may be trash to some, but to Dr. Wendy Turner, associate professor of social work and director of the Center for Social Justice Education, they are art materials. Turner has been creating art since she was a child, but it wasn't until entering a piece into a wearable art fashion show and taking top prize that she began to think "I might be kind of good at this." The theme of the show was "trash," and Turner made use of old magazines she had around the house to create a flapper-inspired dress by tearing out the pages and weaving them together. This wasn't first time she created wearable art. She had already made bras out of melted spoons and jewelry as part of the AIDS Resource Group's "Mardi Bra," fundraiser.
Most of her work is assemblage pieces, using recycled materials that she describes as "Betye Sayre's social and political narrative mixed with Joseph Cornell's boxes and the surrealism of Salvador Dali." The goal for Turner is getting out a social message visually. "People learn in different ways," she said. "As a social work scholar, I write about social justice and publish it in journals. The only ones who have access to these journals are academics, but art is for everyone. It's a way to make people think about an issue."
Turner was recently awarded first place in the Ohio Valley Art League's 7th Annual Art of Recycling juried exhibition for her piece "The 79 Cent Epiphany." Using 1950s wedding cake toppers. The man stands atop 100 pennies while the bride stands significantly lower on her stack of 79. Below are the words "Mars and Venus in the Workplace." The work sends a strong visual message about the wage gap that still exists between men and women. The light bulb above, represents the epiphany.
She tackles another issue faced by women, with "Don't Call Me Sweetheart." At first glance it appears to be a collection of random trinkets and figurines displayed in a curio cabinet, but at the top a plaque displays the word "women" and a crank below is a music box which plays the tune "Let Me Call You Sweetheart." Turner explained that each curio item represents a derogatory term for a woman, such as "dish," "doll," "arm candy" "cupcake," "cow," etc. The display further represents how women are often put into a box and objectified.
Her work has addressed many themes of social, economic and environmental justice, including the food industry, animal cruelty and global warming. "Campfire of the Cosmos" shows a polar bear standing on top of the world on a melted ice cap. Hovering above, is a hand holding a skewered marshmallow that roasts over an ever-warming earth.
Turner has also actively advocated and worked for many social justice organizations and causes including service-learning opportunities to help children in Jamaican orphanages; education chair and college/university youth chair for the Evansville NAACP; organization convener for the Evansville Area Justice Coalition; vice president of the board of the AIDS Resource Group of Evansville and advocate for numerous other regional, national and international social justice issues.
View a slideshow of Turner's artwork.