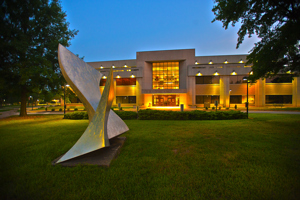 During a special meeting on October 4, 2017, the University of Southern Indiana Board of Trustees named those who will serve on the presidential search committee. Board chair, Harold Calloway is leading the committee, which is charged with bringing forward candidates for full board approval to fill the office of USI president. The committee will be working with an executive search firm for the national search.
The new president will succeed Dr. Linda L. M. Bennett, the University's third president, who announced plans to retire after nine years as president effective June 30, 2018.
Members of the search committee are:
Harold Calloway (chair), chair of USI Board of Trustees
John Dunn, member of USI Board of Trustees
Jeffrey Knight, member of USI Board of Trustees
Ronald Romain '73, second vice chair of USI Board of Trustees
Anjali Patel '19, student member of USI Board of Trustees
Kevin Hammett '90, chair of USI Foundation Board of Directors
Steven Bridges '89 M'95, vice president for Finance and Administration
James Beeby, dean of the College of Liberal Arts
Mayola Rowser '95 M'99 D'05, director of Graduate Studies
Andrea Gentry '05, chair of Administrative Senate, director of Development
Charles Conaway, director of Master of Arts in English program, associate professor of English
Kent Scheller, professor of physics
Adrian Gentle, associate professor of mathematics
Ronda Priest, associate professor of sociology
Travis Dickison '15, chair of Staff Council, administrative assistant
Ex officio members:
Andrew Lenhardt, executive director of Human Resources
Kindra Strupp, associate vice president for Marketing and Communications
Linda Cleek, executive director emerita of Lifelong Learning, who retired in 2015 after 41 years of service to USI, will serve in a support capacity for the search committee.
The search process is anticipated to be completed by spring 2018.