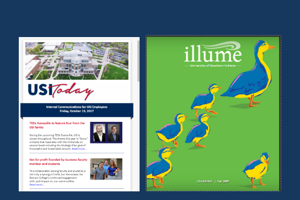 Two University Communications publications, USI Today and illume were announced as award winners last week by the Council for Advancement and Support of Education (CASE) for District V which includes universities in the states of Illinois, Indiana, Michigan, Minnesota, Ohio and Wisconsin. CASE District V annually recognizes excellence in the district. The Pride of CASE V Awards showcase best practices in alumni relations, fundraising, advancement services, special events and outstanding communications. Experts from all disciplines outside of District V judge the entries.
USI Today, the University of Southern Indiana's electronic newsletter for faculty, staff and retirees, won the Bronze Award for Best Electronic Newsletter. This award recognizes an outstanding electronic newsletter used by the institution or a unit within it. Judging criteria was based on an understanding of the target audience(s); institution's mission and how well it is communicated; budget; creative use of available resources; publication's content, writing, editing, layout and design; and results. The USI Today e-newsletter received an updated branded look with new content areas this past year, and analytics showed that readership for USI Today rose by 151 percent over the previous year. This was the first year USI Today was entered in the award category.
illume received an honorable mention for Best Alumni/Institution Magazine for universities with more than 10,000 students. This category recognizes outstanding work on magazines published by an institution and/or alumni association, geared toward external audiences. Judging criteria was based on the objectives of the magazine publishing program; magazine content, writing, editing, layout and design and print quality; creative story ideas; and serving the audience. This was the first time the magazine has received an award in this category since its recent redesign.
illume also won the Silver Award for Excellence in Feature Writing, Series for the series of stories in the Perseverance issue. This category was for a series of thematically related articles that have appeared in an institutional magazine, tabloid, newsletter, online publication or other institutional product authored by a single writer or team of writers. Judging criteria was based on the ability to creatively engage the reader through clear, compelling and interesting news writing; an understanding of the target audience(s); objectives that support the mission of the institution; well-written, organized and carefully edited stories on a wide range of topics; and how the publication met its objectives. The magazine has won both Gold and Bronze awards in this category in past years.
"These awards are well-deserved and are the result of a lot of hard work and dedication from a number of individuals and departments," said John Farless, director of University Communications. From the editors and writers to the designers and photographers, this team has created publications that elevate the reputation of our University. It's exciting to see that work recognized and affirmed by our peers in higher education."