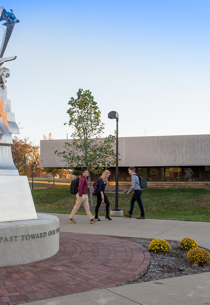 Richard Hunt, nationally renowned sculptor, will return to the University of Southern Indiana to present a free lecture entitled Richard Hunt: American Sculptor at 7 p.m. Thursday, October 12 in Carter Hall. Hunt's presentation will be free and open to the public as seating is available.
Hunt was last in Evansville for the dedication of his sculpture, From Our Past Toward Our Future, on the USI Quad on October 22, 2015. That work, commemorating USI's 50th anniversary, was commissioned by the University through the generous gift of James A. Sanders.
Hunt has received honors and recognition throughout his career and, in 1971, was the first African-American sculptor to have a major solo exhibition at the Museum of Modern Art in New York. His work can be found in numerous museums as well as both public and private collections, including the Art Institute of Chicago, the National Gallery and National Museum of American Art in Washington, D.C., the Whitney Museum of American Art, the Metropolitan Museum of Art and the Museum of Modern Art in New York. He holds memberships in the American Academy of Arts and Letters and the National Academy of Design. In 2009, he was awarded the Lifetime Achievement Award by the International Sculpture Center and was awarded the Lifetime Achievement Award from Partners for Livable Communities in 2015.
For more than three decades, Hunt's status as the foremost African-American abstract sculptor and artist of public sculpture has remained unchallenged. He has has major commissions on view across the United States, and his welded bronze sculpture, Swing Low (2016), hangs prominently in the Central Heritage Hall of the National Museum of African American History and Culture in Washington, D.C.
While on campus, Hunt will also meet and work with USI art and graphic design students in classroom and studios. The Kenneth P. McCutchan Art Center/Palmina F. and Stephen S. Pace Galleries currently has on exhibit a collection of works by Hunt that is open through October 29. For more information, contact Susan Sauls, art collection registrar, at scsauls@usi.edu.