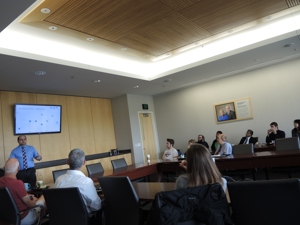 The University of Southern Indiana Romain College of Business will host a free showcase of the research and capabilities of its User Perception, Cognition and Interaction (UPCI) Lab at noon Thursday, October 26 in the Griffin Center Great Hall. Lunch will be provided, and the event is open to the public.
The UPCI Lab, under the direction of Dr. Dinko Bačić, assistant professor of computer information systems, opened on May 3 in the Business and Engineering Center. The lab utilizes biometric sensors to conduct research on decision making in the context of computer-based information presentation and task by measuring human attention, arousal, cognition and emotion. By tracking eye movement, skin reactions, heartbeat, and facial expression, researchers are able to measure emotional response to images or video and see how subjects interact with digital media.
The showcase will highlight the tools and research capabilities of the UPCI Lab, as well as a live demonstration and the opportunity for hands-on experience for attendees. Speakers will include Bačić and representatives from lab software vendor iMotions.
Participants are asked to register by Thursday, October 19 to ensure meals will be available. Registration is online at the Eventbrite page for the event. For more information, contact Bačić at dbacic@usi.edu.