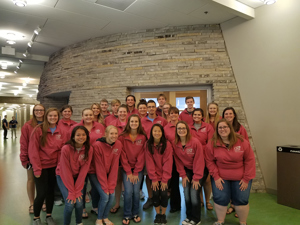 Retention is always at the forefront at USI. Once students have been recruited, how do we keep them here? Building relationships early, establishing connections, finding the right resources and listening to their concerns are all key to strengthening a student's comfort level and confidence to maneuver through college.
One way the Pott College of Science, Engineering, and Education has met these needs is through the development and 2012 reintroduction of the Pott College Student Advisory Board (SAB). Through the advisory board, student concerns can be brought to the deans, department chairs and faculty of the College. "We needed to hear the voices of the students," said Dr. Glenna Bower, associate dean of Pott College. "Sometimes students may be intimidated by the thought of talking to the dean, and this helps break down those walls."
The SAB coordinates events, such as meet and greets with department chairs and deans, open forums for Q&A, cookouts, volunteer opportunities and even Thanksgiving dinner with the dean.
Bower says the SAB has connected with other USI student organizations to collaborate and strengthen the bonds of working together. The group organizes fundraisers for student organization travel and professional development.
The advisory board boasts several achievements, including enhanced practicums to equip education majors for the classroom, and sessions to ensure pre-med biology students are prepared for their Medical College Admission Test. Other initiatives in the works include a new biology lounge for students to relax and study, and a pathway to the Applied Engineering Center.
They have also established a successful mentorship program. Whitney Mosier, senior education major and current president of the SAB began as a mentee in the program and now serves as a mentor for new students. "We help them through the transition, navigating and balancing a social life and academic life," said Mosier. "We give them advice for doing better in class, study tips and how to approach and communicate with their professors."
Students are able to bring issues and concerns to the advisory board, but for those who are shy to speak out, or wish to maintain anonymity, the group developed comment boxes called "Pott Thoughts." The boxes can be found throughout the College and are collected and reviewed by SAB members. Upcoming events, programs and services offered by Pott College are promoted with flyers posted in Pott College restrooms, adeptly named "Pott Talks." The short information flyers have been a big success.
Mosier says being in the SAB has helped her grow as an individual and a professional. "I've learned how to take on a leadership position," she said. "It has built my confidence, helped me become more organized and taught me to be a better listener."
The advisory board has received tremendous support from the deans, faculty and chairs of the College and has become a success model for others colleges to emulate. The group began with around 20 students and has since grown to 90 mentors and mentees. Bower says her goal is to see a natural transition from mentee to mentor to provide continuity for the program.
"It's about getting students started on the right foot," said Bower. "We want to retain them. It's not just about retaining them in the Pott College. If we can retain them on campus, even if they want a different major, we're doing something right as a mentor."