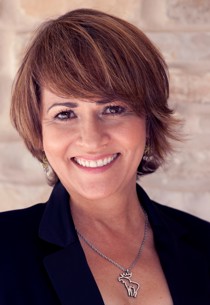 The University of Southern Indiana will host "Shaping the Bright Future of America," a keynote address from Shayla Rivera, professor of practice and director of the ENGR[x] Program at Texas A&M University, at 6 p.m. Wednesday, October 11 in Carter Hall. The event, which is presented as part of Hispanic Heritage Month, is free and open to the public.
Rivera is an aerospace engineer and former rocket scientist with NASA turned salesperson, corporate trainer and comedian. Born and raised in Puerto Rico, Rivera grew up with an avid awareness of the idiosyncrasies of human behavior, a major interest in science, and a great desire to learn about machinery and fixing things. After working at Johnson Space Center in Houston, Rivera left to pursue work in sales and motivational speaking. She used her experiences to create the hit one-woman show "Rocket Science and Salsa," directed by Debbie Allen for which Rivera earned a "Best Lead Actress" nomination by the NAACP Theater Awards, as well as a nomination for "Best Choreography" for Allen.
Shayla Rivera has been speaking and performing in both English and Spanish for over 22 years and has a broad appeal to men and women of all backgrounds. Her clients around the world include Fortune 500 companies, national and regional organizations, as well as students and faculty from elementary schools to colleges. Rivera often applies her expertise to host/emcee many fundraising events for non-profit organizations, charitable and educational programs as well as Award Galas and Conferences. Rivera holds a bachelor's degree in aerospace engineering from Texas A&M University.
The event is sponsored by the USI Multicultural Center. Following Rivera's presentation, attendees will be able to interact with her and ask questions about her experiences and her presentation.
For more information, contact Cesar Berrios at 812-228-5002 or cdberrios@usi.edu.