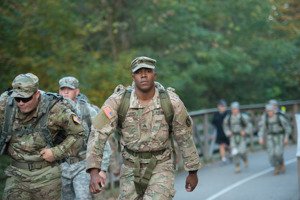 On Saturday, November 4, just one week before Veteran's Day, over 500 participants will take on a University of Southern Indiana Reserve Officers' Training Corps (ROTC) tradition. The Norwegian Foot March will host cadets, military personnel, veterans and civilians who hope to finish the 18.6-mile race in under 4.5 hours.
At 7:30 a.m., the start of the race will be marked by the firing of a U.S. Army howitzer. Distinguished guest, Andrew Wright, vice president for enrollment management will fire the cannon.
In addition to the local race, two USI-sponsored events will take place internationally. The first will be held on Thursday, November 2 at U.S. Army Camp Humphreys in South Korea. A memorial for Korean War Hero, Captain Emil Kapaun, the remote USI-sponsored event will host 400 participants. The second remote event, hosting nearly 100 participants, will be held on Saturday, November 4 at Soto Cano Air Base in Panama. 
"The Norwegian Foot March has gained USI and the ROTC program recognition, in ways and communities it never reached before," said Captain Adam Balbach, assistant professor of military science and event coordinator.
Cadets and service members who complete the race within the allotted amount of time will be awarded a certificate and a bronze badge for finishing. A silver badge will be awarded to participants completing the event for the fourth, fifth or sixth time and a gold badge to those completing the event six or more times.
The USI Norwegian Foot March is free and open to the public, as spectators are encouraged to cheer on the participants as they cross the finish line. Student volunteers from USI's Nursing and Pre-Physical Therapy programs will be on-scene in case of emergency and for post-race care.
Proceeds from the Norwegian Foot March will benefit the participating students and cadets of the USI ROTC program.
IF YOU GO:
WHEN: Check in is strongly encouraged from 6 to 9 p.m. on Friday, November 3. Day of check in will be available from 4:30 to 6:15 a.m. on Saturday, November 4, all located at the Recreation, Fitness and Wellness Center.
Three heats begin to depart at 7:30 a.m., Saturday, November 4. Participants will cross the finish line in a dramatic fashion, between 10:30 a.m. and 12:30 p.m.
A complete schedule of events: http://www.usi.edu/outreach/rotc/norwegian-foot-march/timeline
WHERE: The starting and finish line are located in front of the PAC at the corner of University Boulevard and Bennett Lane.
Exiting campus through the USI-Burdette trail, participants will travel the rolling hills of Evansville's west side, reach the Ohio River and return to campus.
Local drivers should watch for participants crossing at Broadway Avenue, Nurrenbern Road and Schissler Road where officers will assist with traffic.
A map of the route is available online.
CONTACT: Captain Adam Balbach, 812-461-5304, awbalbach@usi.edu or visit edu/FootMarch.