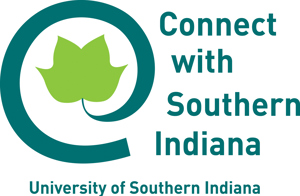 Connect with Southern Indiana, a regional leadership program managed by University of Southern Indiana Community Engagement, is now accepting applications for its 2018 class. The annual program focuses on promoting active citizenship and developing creative problem-solving skills for individuals across southwest Indiana. The deadline to apply is Friday, November 10.
"The experience and value of Connect with Southern Indiana is twofold," said Leslie Townsend, director of Community Engagement. "First, participants learn unique problem-solving techniques, which translate well on the job or through service in their community.""Second, sessions are held in nine of the Historic Southern Indiana counties; participants learn so much about what makes this region special. Sessions might include a tour of Toyota, twisting pretzels by hand at Tell City Pretzels or visits to cultural and historic sites like Angel Mounds, Lincoln Boyhood or New Harmony." 
Faculty from USI's Entrepreneurial Initiative, as well as community leaders, will facilitate sessions on divergent and analytical thinking, idea generation, communication and strategic entrepreneurship from a community development perspective.
Connect with Southern Indiana is open to USI students and employees as well as Indiana residents living in Dubois, Gibson, Knox, Perry, Pike, Posey, Spencer, Vanderburgh or Warrick counties. Up to 24 individuals will be selected for the program. Participants will attend ten full-day sessions between January and May and develop a collaborative project, which they will present at the end of the program.
Applicants should have an interest in improving the quality of life in their community and/or region, a desire to develop leadership skills and to become actively involved in their area. One year's residency in the region prior to January 2018 is required.
Additional information and an application for the 2018 Connect with Southern Indiana class can be found at USI.edu/Connect.