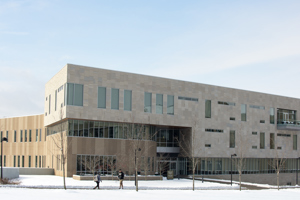 Two new engineering degrees, and a physics degree, will be offered at the University of Southern Indiana's Pott College of Science, Engineering, and Education beginning fall 2016. The announcement comes following approval by the Indiana Commission for Higher Education at its meeting on February 11 in Indianapolis.  
The approved degrees include a Bachelor of Science in Mechanical Engineering, a Bachelor of Science in Manufacturing Engineering and a Bachelor of Science in Physics. All three programs will be implemented for the start of the fall 2016 semester.
"Over the years, we've seen continued growth and interest in engineering. The addition of these two new engineering degree programs is a natural progression from this growth," said Dr. Scott Gordon, dean of the Pott College of Science, Engineering, and Education. "Having these degree programs in place at a state-supported public institution will result in tremendous regional economic and workforce benefits."
USI's manufacturing engineering program will be the only of its kind in Indiana and one of around 20 offered in the United States. The program will prepare graduates for entry-level positions in the field, including private industry, consulting or governmental agencies. The Bureau of Labor Statistics projects a 4.5 percent growth in manufacturing engineering jobs from 2012 to 2022 nationwide, with some industries seeing growth as high as 39.5 percent. In addition, Indiana's Department of Workforce Development projects growth at 6.5 percent within the state.
USI has offered a bachelor's degree in engineering since 2002 but, until now, has not had named degrees within the field. "We're very excited to be offering discipline-specific engineering programs for the first time starting this fall," said Dr. Zane Mitchell, chair of the Engineering Department.  "These programs have been requested by our stakeholders for years and we expect they will prove to be just as important to the Tri-State region as our ABET-accredited Bachelor of Science in Engineering program."
Since USI began offering a bachelor's degree in engineering, there has been growing demand from students and prospective students for a named degree in mechanical engineering, and employers often look for graduates with degrees in that area. The Bureau of Labor and Statistics indicates a 5 percent growth in mechanical engineering positions nationally, translating to more than 11,000 jobs by 2022. Indiana is expected to capture many of these jobs with the seventh highest availability of mechanical engineering jobs in the United States, ranging from manufacturing and design of automotive and aerospace parts to scientific research and development services. Indiana also has the third highest percentage of engineering positions for every 1,000 jobs available.
"USI is poised to be a key player in that growth," said Gordon.
Physics Degree
In addition to the engineering degrees, a Bachelor of Science in Physics also was approved by the Commission and will be implemented this fall. This new degree program completes USI's offerings in the STEM (science, technology, engineering and math) areas, providing alignment with the needs of the workforce and preparing students for post-baccalaureate studies.
"Our new physics degree will enable us to recruit some of the highest performing science students in the Midwest to USI," said Dr. Kent Scheller, program coordinator for physics at USI. "It will also help us to prepare more physics teachers for the high school classroom, which is sorely needed in the Tri-State."
According to the American Institute of Physics, one of the most needed positions in the field is high school physics teachers, and school districts consistently rank physics as the highest need among all academic disciplines.
"The addition of a physics major at USI rounds out our extensive portfolio of high quality science programs," said Gordon. "We're excited about this new major and the synergies that will develop with our other strong STEM programs."